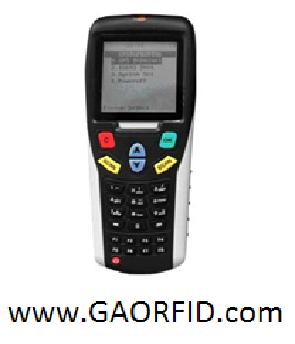 Toronto, Canada – GAO RFID Inc. has announced the release of its 13.56 MHz RFID HF rugged handheld reader writer. The 13.56 MHz RFID handheld reader/writer is an ideal solution for access control, asset tracking, warehouse management, and livestock tagging.
This high frequency RFID rugged handheld reader writer, model 243013, is compatible with both ISO15693 and ISO14443A/B protocols operating in the HF 13.56 MHz band, which supports both North America and EU standards. It provides a RAM capability of 64 Mbit and a wide Flash memory ranging from 16 Mbit to 144 Mbit. In addition, it is integrated with water-proof keys and is shock and dust resistant to withstand any harsh environment.
This HF RFID rugged handheld reader writer belongs to GAO's family of 13.56 MHz RFID Readers. Featured products in this line are 13.56 MHz HF Handheld RFID Reader which is able to read and write high frequency RFID tags compliant with ISO14443A/B and ISO15693 protocols, 13.56 MHz HF Pistol Grip Portable Reader/Writer which is widely used for warehouse distribution, the shop floor, point-of-sales (POS), or field services and 13.56 MHz Smart Label RFID Reader which reads/writes ISO15693 compliant smart labels at a maximum read distance of up to 50 mm and can operate as a configurable block reader.
GAO RFID Inc. has also provides various solutions that are compatible with RFID readers and tags so that the users can choose whatever they need. For example, GAO's RFID Access Control Solution is a performing and efficient access control system required by most organizations today for enhanced security to limit access to restricted areas, tracking employee activity and improving loss prevention. GAO becomes the best choice with its good quality, specific features, multiple functions, and competitive prices. Most of our customers in North America such as Los Angeles, San Diego and Miami are satisfied with our products and our best services.
For sales inquiries please contact:
1-877 585-9555 ext. 601 – Toll Free (USA & Canada)
1-416 292-0038 ext. 601 – All Other Areas