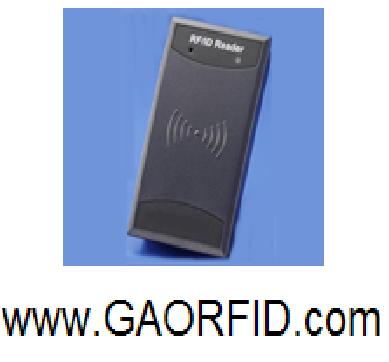 Toronto, Canada – GAO RFID Inc. has announced the release of its 13.56 MHz wall-mount proximity UID reader which is easy to install. It is a suitable RFID solution to be applied in access control, security control or admission control systems.
This 13.56 MHz wall-mount proximity UID reader, model 213003, works at a fast baud rate of 19,200 bps. This reader can read multiple tags from distances of up to 5 cm with a maximum read quantity of 16 tags/s. It has none internal LED and buzzer and can be powered by either 6 V to 12 V DC or 9 V DC.
This reader is compatible with transponders compliant to ISO 14443A and Mifare DESFire. It communicates with a computer through three different communication interfaces including RS232, Wiegand and MSR ABA TK2 for data exchange. It has passed CE and FCC certification. In addition, this RFID reader provides an IP40 protection rating and is encapsulated within an ABS case allowing it to perform well even in harsh environments.
This 13.56 MHz wall-mounted Mifare RFID reader belongs to GAO's family of 13.56 MHz high frequency RFID readers. This line also includes Rugged Handheld RFID Reader/Mobile Computer the Jett which is an ideal solution for any number of vertical markets — asset tracking and inventory management, event attendance or personnel access control, fleet maintenance, in the warehouse or on the hospital floor and 13.56 MHz HF RFID Reader which features a compact size and low power consumption and is suitable for many applications such as access control, ticketing, time and attendance, parking control and POS operations. Other featured products such as 13.56 MHz HF Handheld RFID Reader and 13.56 MHz Mid-Range RFID Reader are also in this line.
For sales inquiries please contact:
1-877 585-9555 ext. 601 – Toll Free (USA & Canada)
1-416 292-0038 ext. 601 – All Other Areas