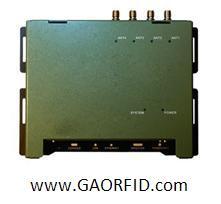 Toronto, Canada – GAO RFID Inc. recommends its EPC Class 1 Gen 2 4-port UHF RFID reader. This 4-port UHF RFID reader is suitable for applications such as access control, asset tracking, logistic inventory and warehouse management.
This EPC Class 1 Gen 2 4-port UHF RFID reader, model 236030, is equipped with 4 antenna ports and is embedded with an Impinj R2000 chip. The RFID reader module is compliant with EPC C1 Gen 2/ISOl8000 – 6C standard and allows for 4 bi-static antenna connections for long distance reading. It is available for wall mounting or vertical placement.
This 4-port RFID interrogator runs under the Linux operating system and offers a USB 2.0 interface for data exchange. Its powerful hardware architecture uses a Freescale PowerPC CPU that allows the reader to autonomously run complex RFID applications with extremely fast processing speed.
This EPC Class 1 Gen 2 4-port UHF RFID reader belongs to GAO's family of Gen 2 EPC RFID readers. This line also includes an All-in-One Long Range UHF Gen2 Reader/Writer designed for industrial environments, 860 to 960 MHz Mid-Range RFID Reader which can be used in many RFID application systems such as logistics, warehouse management, access control, and anti-counterfeiting and industrial production process control systems and Intelligent RFID Clothing Tag Unfastener which is used in conjunction with the Dual Locking RFID Clothing Tag to provide an RFID solution which provides theft reduction, shrinkage reduction and easy inventory management.
For sales inquiries please contact:
1-877 585-9555 ext. 601 – Toll Free (USA & Canada)
1-416 292-0038 ext. 601 – All Other Areas