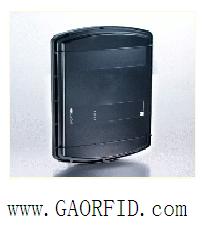 Toronto, Canada – GAO RFID Inc. recommends its active 433 MHz RFID interrogator. This long range active RFID reader provides highly accurate, real-time data collection in wireless applications such as the tracking and identification of cargo, vehicles, personnel or other assets.
This active 433 MHz RFID interrogator, model 227007, utilizes advanced UHF radio frequency technology. It also employs an integrated antenna to transmit and receive data at distances of over 140 meters (460 feet). It uses the ISO/IEC 18000-7 interface for RFID communications in the 433 MHz band. A status LED indicates operation over air and also wired communication.
This high frequency RFID interrogator provides 2 MB Flash program memory and 128 kB of non-volatile memory. It has the ability to chain several interrogators to a host interface for data transmission via RS232 interface, which also provides the need for only one connection to power supply. By employing a standardized anti-collision, multi-transponder-handling algorithm, communication to compatible RFID tags remains accurate even when thousands of transponders are within the reader's range.
This 433 MHz RFID interrogator belongs to GAO's family of RFID Semi-Passive Readers. Another three featured products in this line are UHF RFID Reader which uses UHF radio frequency technology and an anti-collision algorithm to accurately communicate with a large number of RFID tags within read zone of up to 300 feet, UHF RFID Reader Series which can be used in wireless applications such as identification, tracking and tracing, and localization of assets and personnel and UHF RFID Reader/Writer Series which is capable of controlling up to two antennas simultaneously and supporting all standard interfaces including Ethernet and GPRS.
For sales inquiries please contact:
1-877 585-9555 ext. 601 – Toll Free (USA & Canada)
1-416 292-0038 ext. 601 – All Other Areas