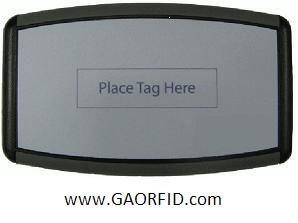 Toronto, Canada – GAO RFID Inc. is offering this desktop RFID reader & tag programmer which offers a compact design and uses a linearly polarized integrated antenna. This reader is suitable for desktop applications.
This desktop RFID reader & tag programmer, model 236025, features a compact size, light weight and is easy to use. It is designed to verify ISO 18000-6C compliant RFID tags and offers extended functionality of customizable command set for NXP UCODE G2XM and G2XL tags, including EAS, read protection and calibration.
The RFID reader is FCC Part 15 compliant. It uses USB for power and data exchange with a host computer. It operates over an ultra high frequency range of 902 MHz to 928 MHz and has a read range of up to 12 inches from the surface of the reader depending on the tag.
This high performance desktop RFID reader & tag programmer belongs to GAO's family of 900 MHz RFID Readers. Other featured products in this line include Rugged Handheld Terminal RFID Reader which is highly durable and rugged and can withstand drops from five feet to polished concrete or shock and vibration consistent with a truck or forklift mount, All-in-One RFID Reader which is ideal for mid-distance applications such as found in transportation management, logistics management and vehicle access control and Integrated RFID Reader which provides a long read range and high read rate and can be used both indoors and outdoors.
For sales inquiries please contact:
1-877 585-9555 ext. 601 – Toll Free (USA & Canada)
1-416 292-0038 ext. 601 – All Other Areas