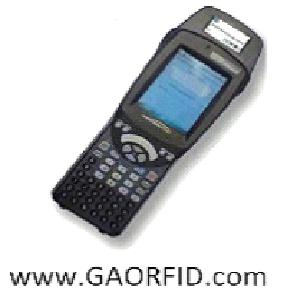 Toronto, Canada – GAO RFID Inc. is offering its long range end-cap reader with external antenna as a powerful and cost-effective mobile tool for active RFID asset management. It provides unrivalled mobility solutions for customers seeking to identify, locate or audit tagged assets outside of areas monitored by fixed RFID reader networks.
This rugged end-cap long range reader, model 214041, operates at a frequency of 433.92 MHz and implements ASK modulation. It has expansion modules providing a convenient combination of GPRS, GSM, Wi-Fi and Barcode scanning allowing for user's choice of out-of-the-box or customized applications to process detected tag data.
The long range end-cap reader offers a typical tag read range of 70 m by using an external antenna and allows for ultra-long range asset identification and auditing indoor or outdoor storage facilities. A standard range model is also available and offers a typical tag read range of 15 m by using an internal antenna and allows for close proximity asset identification and quick location of indoor storage facilities.
Whether it is used as a standalone mobile reader or as part of an enterprise asset management system, this reader allows for quick and easy search for or localization of tagged items. Tagged item information is clearly displayed on the screen enabling complete management of all tagged assets by mobile users even if they are out of range of a fixed reader network. The collected information enables the automation of business decisions about tagged assets and real-time knowledge of their accurate location and condition.
This long range end-cap reader belongs to GAO's family of 433MHz RFID Active Readers. This line contains several other featured products such as 433 MHz Active RFID Reader with RS485 / RS232 which is used in stand-alone mode or in a multi-drop asynchronous network where the "Node ID" is automatically assigned, and 433 MHz Active Handheld Reader which can manually scan and program individual tags, which means it enables users to selectively identify a particular tag and change its information.
For sales inquiries please contact:
1-877 585-9555 ext. 601 – Toll Free (USA & Canada)
1-416 292-0038 ext. 601 – All Other Areas