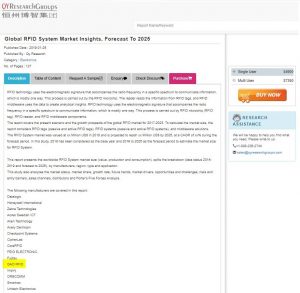 Global RFID System market report studies the current scenario of RFID system market and the growth prospects of the global RFID market for 2017-2023. The report analyzes value production and consumption for the RFID market from 2014 to 2019 and forecasts the same to 2025. Market status, market share, growth rate, future trends, market drivers, opportunities and challenges, risks and entry barriers, sales channels, distributors of RFID systems market are studied.
Major Manufacturers according to the report are
Datalogic
Honeywell International
Zebra Technologies
Acreo Swedish ICT
Alien Technology
Avery Dennison
Checkpoint Systems
CipherLab
CoreRFID
FEIG ELECTRONIC
Fujitsu
GAO RFID
Impinj
ORBCOMM
Smartrac
Unitech Electronics
GAO RFID is considered as one of the major manufacturers of RFID systems market. GAO RFID Systems are customized integrations of RFID software and hardware that provide intelligent solutions for businesses across all industries. GAO RFID offers a number of system solutions whether you need to control access to your building or parking lot, need to track assets in your building, monitor your employees or contractors on a job site or track items along with an assembly line.
https://www.qyresearchgroups.com/report/global-rfid-system-market-insights-forecast-to-2025-d-880