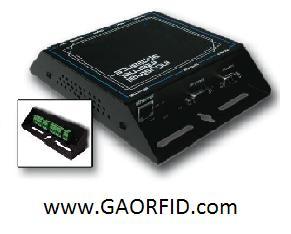 Toronto, Canada – GAO RFID Inc. has announced the release of its industrial Wiegand-to-Ethernet controller which can be seamlessly integrated into both new and existing dialup, LAN, WAN and wireless projects. This industrial Wiegand-to-Ethernet controller is well suited for many applications including agriculture, retailing, access control, construction site management, energy management systems, network and environmental monitoring.
This industrial Wiegand-to-Ethernet controller, model 491023, is a compact networkable access controller designed to simplify remote communications and data collection. It features a compact size, light weight and custom firmware for ASPs. It supports readers using the Wiegand 26 protocol but utilizes the 16-bit card ID only.
This industrial controller has embedded network connectivity ability making it suitable for Ethernet, dialup, remote access servers as well as 802.11 Ethernet adapters, private radio, satellite or 3G cellular data modems. It also has the ability to provide legacy device connectivity and input events over any network. It is equipped with multiple interfaces including Ethernet, RS232 and Wiegand ports.
This multi-functional Wiegand-to-Ethernet controller belongs to GAO's family of RFID Peripherals. Other featured products in this line include GPIO Adapter which is an ideal solution for applications such as RFID smart shelves or document tracking applications, Intelligent RFID Clothing Tag Unfastener which has been successfully deployed in a number of department stores each of which has seen a notable return on investment and UHF GPRS Data Transmission Terminal which can be applied to electric power automatic systems, industrial monitoring, traffic management, atmospheric monitoring or pipeline network monitoring.
For sales inquiries please contact:
1-877 585-9555 ext. 601 – Toll Free (USA & Canada)
1-416 292-0038 ext. 601 – All Other Areas