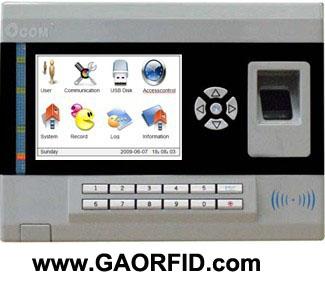 Toronto, Canada – GAO RFID Inc. is offering its high performance access control device featuring multiple identification methods. It identifies users via fingerprint, RFID card, password or camera. It is perfect for building access management applications and time and attendance applications.
This RFID access control device, model 491025, features high accuracy and reliability and fast identification speed. It allows for 360 degree rotation identification and can identify dry, damaged and incomplete fingerprints. This fingerprint access control device is equipped with a 4.3 inch LCD color touch screen with smart navigation menus. The high definition LCD screen displays information vividly including user photo and verification result. The access control device offers an effective collection area of 16 mm × 19 mm and provides a user capacity of 4750.
This RFID access control device belongs to GAO's family of RFID Peripherals. A featured product included in line is UHF 865 MHz to950 MHz TOSHIBA RFID Enabled Thermal Printer which is ideal for use in all heavy-duty industries including chemicals, manufacturing, pharmaceuticals, textiles, electronics and telecom. Some other popular products in this line include RFID Enabled Parking Barrier Gate which offers cost effective control of vehicle access for 10 to 20 foot lanes and is extremely dependable and reliable while providing advanced safety feature for both vehicles and pedestrians, RFID Dock Door Portal which features fast and simple installation and convenient access to AC power, LAN and accessory connections.
For sales inquiries please contact:
1-877 585-9555 ext. 601 – Toll Free (USA & Canada)
1-416 292-0038 ext. 601 – All Other Areas