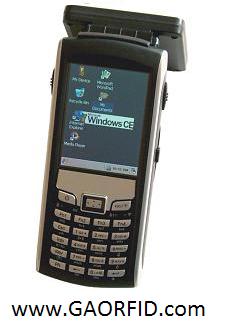 Toronto, Canada – GAO RFID Inc. is offering its UHF 902 MHz Gen 2 portable RFID reader writer. This UHF Gen 2 RFID reader/writer is used for field service as well as in warehousing, distribution, on shop floors and in retail POS inventory control.
This UHF 902 MHz Gen 2 handheld RFID reader writer, model 246001, is light weight and compact in size. It is waterproof and dustproof. It reads transponders compliant with ISO18000-6B, EPC Class 1 Gen 1, EPC UHF Gen 2 and ISO18000-6C standards. The multi-protocol unit runs under the latest Windows Mobile operating system. It provides simultaneous multi-detection of tags and offers a maximum read distance of 3 m and write distance of up to 1.5 m. The reader is equipped with multiple interfaces for data exchange such as USB, IrDA1.1, RS232 and TTL. In addition, this handheld RFID reader writer is packaged within a high impact plastic housing protecting it in rugged environments.
This UHF 902 MHz Gen 2 portable handheld RFID reader writer belongs to GAO's family of 900 MHz RFID Readers. Featured products in this line are Rugged Handheld Terminal RFID Reader which can be successfully used in a number of applications including Asset Tracking, Livestock Tracking, Warehousing and Manufacturing, Desktop RFID Reader & Tag Programmer which is designed to verify ISO 18000-6C compliant RFID tags and offers extended functionality of customizable command set for NXP UCODE G2XM and G2XL tags, including EAS, Read protection and calibration, and Durable Indoor/Outdoor UHF RFID Reader which utilizes a local personal computer (not included) to provide command and control via its RS-232 serial interface.
For sales inquiries please contact:
1-877 585-9555 ext. 601 – Toll Free (USA & Canada)
1-416 292-0038 ext. 601 – All Other Areas