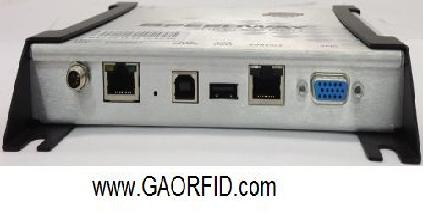 Toronto, Canada – GAO RFID Inc. is offering this UHF Gen 2 RFID Reader/Writer with 4 Antenna Ports which employs power over Ethernet (PoE) to simplify deployment and dramatically reduces cost by eliminating the need for AC outlet installation at read points. With a compact form factor, the reader/writer enables a wide range of installation options.
This compact UHF Gen 2 RFID reader/writer, model 236015, features enterprise-class management and monitoring, industry's best sensitivity and high transmitting power that is capable of overcoming cable losses. It enables large read zone containment and eliminates stray reads. It also provides support for industry-leading software from vendors such as Microsoft and IBM.
This UHF reader is equipped with 4 mono-static antenna ports and is compliant with EPC global Class1 Gen 2 and ISO 186000-6C standards. In addition, it can automatically sense environmental conditions and configure settings for the best performance.
This UHF Gen 2 RFID Reader/Writer with 4 antenna ports belongs to GAO's family of UHF Gen 2 EPC RFID Readers. This line also includes Rugged Handheld Terminal RFID Reader which can be successfully used in a number of applications including Asset Tracking, Livestock Tracking, Warehousing and Manufacturing, 4-Port UHF Gen 2 RFID Reader which can be widely applied in many RFID application systems such as logistics, access control, anti-counterfeit and industrial production process control systems and Intelligent RFID Clothing Tag Unfastener which is able to store the tag information and provide complete data on when, where and even who removed the tag.
For sales inquiries please contact:
1-877 585-9555 ext. 601 – Toll Free (USA & Canada)
1-416 292-0038 ext. 601 – All Other Areas