<![CDATA[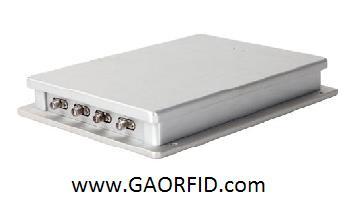 Toronto, Canada – GAO RFID Inc. is offering its 13.56 MHz HF high-powered RFID reader. This high speed reader is used in access control and attendance system, logistics, warehouse management, jewelry retailing as well as drug management and anti-counterfeiting.
The high powered RFID reader module, model 233016, features a desktop design, high sensitivity and provides stable read and write performance. It is compliant with ISO15693 and ISO18000-3 protocols and is able to read more than 300 tags simultaneously with a fast read speed of up to 50 tags per second. It provides a series of optional communication interfaces such as RS232/485, Wiegand 26/34 and USB. It also integrates various input/output ports for data transfer. In addition, its anti-collision algorithm allows fast processing.
This high frequency RFID reader belongs to GAO's family of 13.56 MHz RFID Readers. This line has a variety of featured products which can be suited for many applications. They are All-in-One HF Mid-Range Reader/Writer which is well suited for use in books and documents management, jewelry inventory, medicine tracking and general asset tracking, 13.56 MHz HF Handheld RFID Reader which is an ideal solution for access control, postal service, warehouse management, logistics and personal identification and13.56 MHz RFID HF Bluetooth Reader/Writer which uses Bluetooth (Class Two) technology to upload tags ID to Bluetooth based computers/PDAs in a real-time mode.
For sales inquiries please contact:
1-877 585-9555 ext. 601 – Toll Free (USA & Canada)
1-416 292-0038 ext. 601 – All Other Areas