<![CDATA[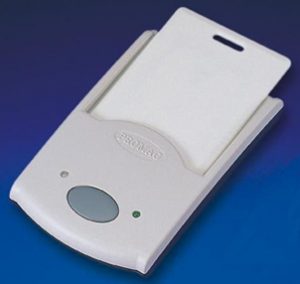 You own a business that needs a high frequency reader/writer for the thousands of tagged items you have coming and going on a daily basis. You need and want something state of the art, something that will allow you to define your own security and change it at will, something that isn't run of the mill but instead something that will simplify your life and get the job done fast, efficiently and effectively.
Enter the 13.56 MHz High Frequency USB RFID Reader/Writer by MIFARE, model 233002, an optimized device that supports MIFARE class and MIFARE PRO standard cards. This reader/writer comes with encoder software that allows you to define your own security keys and write them to the cards. If you wish to change these security keys on a daily, weekly or monthly basis you can do just that, all for optimized security and peace of mind. Right now, these devices are being used in all sorts of industries for things like access control, parking systems, prepaid parking scenarios, ticketing, admission control, point of service protocols and time/attendance monitoring to name just a few. Best of all, this device is waterproof and dustproof so it can be used anywhere anytime.
The High Frequency USB radio frequency identification reader/writer 233002 uses a computer monitor to view the data, and uses a communications interface of RS232 or by USB. It has a 19,200bps N, 8, 1 Baud rate and operates on a 13.56 MHz frequency. This model also comes with 32KB of memory and has a 2cm maximum read/write distance, perfect for those parking or ticketing and admission options. It has technical certificates CE and FCC and a strong ABS housing making sure it is forever water and dust proof. This model weighs in at 115 grams and has dimensions of 65mm x 100mm x 24.7mm, and can be used in temperature swings as much as 0C to 60C with a storage temperature of -20C to 70C. It can also safely be used in relative humidity readings as high as 90%.
This multi detection, high frequency radio frequency identification reader/writer by MIFARE fits the bill on so many levels and has so many different applications. Not only can you fully customize it to your specific needs, you can count on it for years to come to do the job effectively. When you want the best, you want this reader/writer for your business.