<![CDATA[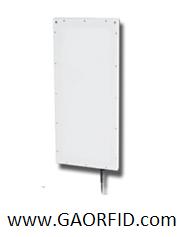 Toronto, Canada – GAO RFID Inc. is offering its 134.2 kHz ASA fixed reader antenna panel which is designed for use along with the 134.2kHz DSP Long Range Fixed RFID Readers (GAO 212007). This device is well suited for applications with demands for long distance identification and a large reading volume such as cattle farms, slaughterhouses, packing plants or livestock markets.
This antenna panel, model 312002, is ideal for agriculture applications and food industry automation. Due to its durable design, robust construction and resistance to typical environmental influences, this reader antenna panel provides a powerful system with an excellent read distance of HDX and FDX RFID transponders. It also provides sufficient reading volume for cattle walk-through installations. In addition, its IP66 housing allows it to work under harsh conditions.
The low frequency ASA fixed reader antenna panel belongs to GAO's family of RFID Antennas. This line has a variety of featured products including 2.4 GHz 9 dBi outdoor directional antenna specially designed to strengthen signal power, increase wireless range, reduce dead spots and extend reliability at high data rates; 433 MHz Active RFID Stub Antenna which has an omni-directional reception pattern around the vertical axis with null points being at the extreme ends of the stub; and 2.4 GHz 14 dBi Outdoor Directional Antenna with no need of configuration or installation of software.
For sales inquiries please contact:

1-877 585-9555 ext. 601 – Toll Free (USA & Canada)
1-416 292-0038 ext. 601 – All Other Areas