<![CDATA[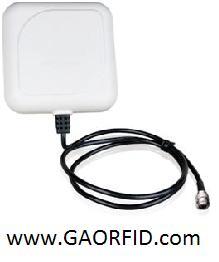 Toronto, Canada – GAO RFID Inc. recommends this 2.4 GHz 9 dBi outdoor directional antenna. This antenna is specially designed to strengthen signal power, increase wireless range, reduce dead spots and extend reliability at high data rates.
This 2.4 GHz 9 dBi directional antenna, model 304019, features easy installation, linear and vertical polarization, and 100 cm low loss CFD-200 cable for flexible deployment. It is compliant with 802.11b/g and 2.4 GHz wireless application. It uses an N female connector guaranteeing wide compatibility with most wireless equipment such as access points, routers, bridges and network adapters. In addition, the direction antenna provides a weather proof design which allows it to operate reliably in various demanding outdoor situations.
This high performance outdoor directional antenna belongs to GAO's family of RFID Antennas. This line has a variety of featured products including 134.2 kHz ASA Fixed Reader Antenna Panel designed for applications with demands for long distance identification and a large reading volume, such as cattle farms, slaughterhouses, packing plants or livestock markets; 433 MHz Active RFID Stub Antenna which has an omni-directional reception pattern around the vertical axis with null points being at the extreme ends of the stub; and 2.4 GHz 14 dBi Outdoor Directional Antenna with no need of configuration or installation of software.
For sales inquiries please contact:
1-877 585-9555 ext. 601 – Toll Free (USA & Canada)
1-416 292-0038 ext. 601 – All Other Areas