<![CDATA[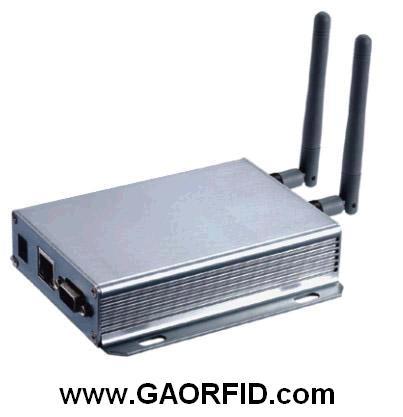 Toronto, Canada – GAO RFID Inc. recommends its 2.45 GHz gain adjustable active RFID WiFi reader implementing GFSK modulation. It is an ideal solution for personnel tracking, logistics, warehouse management, closed loop asset tracking and high value asset tracking.
This 2.45 GHz gain adjustable active RFID WiFi reader, model 217002, uses a built in omni-directional antenna allowing for the identification of transponder tagged items up to 100 meters in all directions. Users can adjust the identification distance from less than 5 meters to 100 meters according to actual need in order to make identification more accurate. It uses an advanced 0.18 µm CMOS IC for ultra-low power consumption.
This high performance RFID WiFi reader operates in two modes: Direct Mode and Buffering Mode. In direct mode, the reader uploads messages to the host system in real time. In buffering mode, the reader receives and saves messages, which are uploaded only when requested by the host system. It performs multi-detection of RFID tags and has a large buffer capacity to store the last 800 received IDs.
This optimized gain adjustable active RFID WiFi reader belongs to GAO's family of 2.45 GHz RFID Active Readers. This line includes a similar product 2.45 GHz Gain Adjustable Active RFID Reader which is also multi-functional and well-accepted. It also has 2.45 GHz Active RFID USB Reader which uses a standard USB 2.0 interface to connect to any USB enabled computer device and provides a read range of 15 to 20 m and 2.45 GHz Handheld RFID Reader which is well-suited for applications such as logistics and warehouse management, supply chains, time and attendance management and field service.
For sales inquiries please contact:
1-877 585-9555 ext. 601 – Toll Free (USA & Canada)
1-416 292-0038 ext. 601 – All Other Areas