<![CDATA[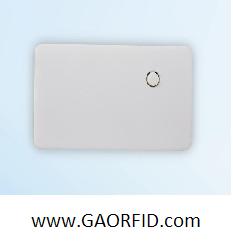 Toronto, Canada – GAO RFID Inc. recommends its 433 MHz active anti-tamper compact RFID tag. This RFID tag is well suited for use in personnel identification and location, asset tracking, process monitoring and vehicle management.
This active anti-tamper mini RFID tag, model 124059, possesses many outstanding features including a compact size, long read distance, low power consumption, high anti-interference, shock resistance, and is dust and water proof. It offers reliable RF signal and communication distances even in unfriendly RF environments. The tag provides a read range of up to 50 m and has a tamper resistant mechanism causing it to send an alert if an attempt is made to remove the tag.
This 433 MHz active anti-tamper compact RFID tag belongs to GAO's family of 433 MHz RFID Active Tags. This line also contains other featured products such as 433 MHz Dry Contact RFID Tag which features two twisted wires that enable connection to a dry contact device; 433 MHz Rack Temperature RFID Tag which monitors temperature sensitive assets in IT racks with an accuracy of 1.2 °C to enable easy mapping of data center temperature profiles and air flow optimization; 433 MHZ. RFID Key Fob Tag Active which is able to transmit a Radio Frequency (RF) signal at a pre-set time-interval and also be operated in silent mode with transmissions only occurring upon the press of the button.
For sales inquiries please contact:
1-877 585-9555 ext. 601 – Toll Free (USA & Canada)
1-416 292-0038 ext. 601 – All Other Areas