<![CDATA[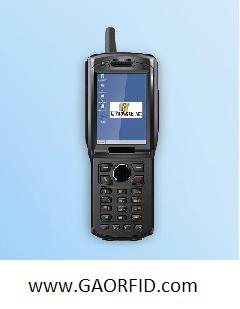 Toronto, Canada – GAO RFID Inc. is offering its 433 MHz active handheld RFID reader. This long range RFID reader is well suited for access control, warehouse management, personnel management and in medical institutions.
This active handheld RFID reader, model 224001, has a compact size and provides reliable data collection. It features a long identification distance of 60 m and low power consumption. Operating under Windows CE 5.0 system, this reader is capable of reading 100 cards at a time. It also provides GPRS modulation and Bluetooth and WiFi wireless communication capabilities.
This high performance 433 MHz active handheld RFID reader belongs to GAO's family of 433 MHz Active RFID Readers. This line has a series of featured products including Long Range End-Cap Reader with External Antenna which provides unrivalled mobility solutions for customers seeking to identify, locate or audit tagged assets outside of areas monitored by fixed RFID reader networks; 433 MHz Long Range Repeater which can be used together with 433 MHz Active RFID Reader (214042) and is well suited for applications such as vehicle monitoring, asset tracking, personnel management and logistics management; and 433 MHz Active RFID Reader with Wireless which can be used via a wireless router/hub on a wireless network.
For sales inquiries please contact:
1-877 585-9555 ext. 601 – Toll Free (USA & Canada)
1-416 292-0038 ext. 601 – All Other Areas