<![CDATA[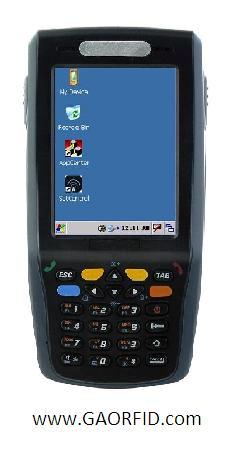 GAO RFID Inc. has rolled out an advanced handheld RFID data collection terminal compliant with ISO18000-6B/6C protocols. This reader is targeted for medium to long range RFID date collection applications and is suited for use in very demanding applications and environments.
The handheld RFID mobile reader, model 246020, features simple deployment, multi-modal data capture, and a high powered platform together with rugged and reliable design. It utilizes Marvell Intel XScale PXA3XX processor operating at 806 MHz providing best-in-class application performance. More than 2 GB flash and up to 32 GB user accessible micro SD memory space are provided to enable robust performance for database and other processing intensive applications. Its omni-directional scanning capability allows it to deliver excellent read range with high accuracy.
This high performance RFID data collection terminal also provides 1D and 2D barcode scanning function and is able to scan even scratched, dirty and poorly printed barcodes in both indoor and outdoor warehouse and distribution environments. It runs under Windows CE or Mobile operating systems and supports multiple wireless communication methods including GPRS, GSM, EDGE, EVDO, Zigebee, WiFi and GPS. Additionally, it is equipped with a 3.5 inch color VGA TFT touch screen with excellent touch sensitivity and its IP64 sealing completely protects against dust and splashing liquids.
For sales inquiries please contact:
1-877 585-9555 ext. 601 – Toll Free (USA & Canada)
1-416 292-0038 ext. 601 – All Other Areas