<![CDATA[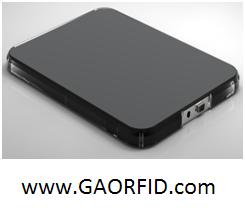 Toronto, Canada – GAO RFID Inc. has announced the release of its all-in-one HF mid-range reader/writer which integrates a reader/writer module and antenna into one unit. This compact, modern designed reader/writer is well suited for use in document management, jewelry inventory, medicine tracking and general asset tracking.
This all-in-one desktop device, model 233015, reads tags compliant to ISO15693 and ISO18000-3 standards. It provides high-sensitivity read and write capability and an efficient anti-collision algorithm with a read speed of up to 50 tags/s. This reader/writer operates at a frequency of 13.56 MHz and provides a read range of more than 40 cm. GAO also supplies a highly innovative model of this reader that allows the device to be used on metal, which is rarely seen in a high frequency reader. In addition, its LED lights indicate current operation status.
This high performance all-in-one HF mid-range reader/writer belongs to GAO's family of 13.56 MHz RFID readers. This line has a variety of featured products which are suited for many applications. The Handheld RFID Data Collection Terminal reads ISO15693, ISO18000-3, ISO14443A and ISO14443B compliant tags and is also able to read 1D, 2D and other format barcodes. 13.56 MHz HF Handheld RFID Reader is an ideal solution for access control, warehouse management, logistics and personal identification, and 13.56 MHz Wall-mount Proximity UID Reader which can be used for access control, security control or admission control systems.
For sales inquiries please contact:
1-877 585-9555 ext. 601 – Toll Free (USA & Canada)
1-416 292-0038 ext. 601 – All Other Areas