<![CDATA[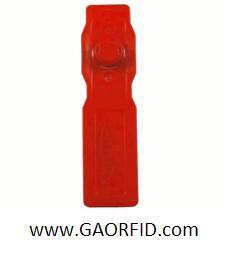 Toronto, Canada – GAO RFID Inc. is offering this dual locking RFID clothing tag compatible with Impinj QT™ technology. This innovative UHF RFID clothing tag provides a dual locking mechanism which can be detached only when used with the Intelligent RFID Clothing Tag Unfastener .
This dual locking RFID clothing tag, model 116314, provides the ability for easy inventory management. It has been successfully deployed in a number of department stores each of which has seen a return on investment by means of theft reduction. This patented garment tag used with the unfastener also provides retailers a method of reducing shrinkage.
This UHF RFID clothing tag is reusable and can be read or written to a 100,000 times. Upon detachment, the intelligent RFID clothing tag unfastener is able to store the tag information and provide complete data on when, where and even who removed the tag. Real time information collection can be compared with actual sales of merchandise as well as detail the individual transaction. In addition, optional EAS protection is also available.
This reliable dual locking RFID clothing tag belongs to GAO's family of UHF Gen 2 EPC RFID Tags . This line also has 860 MHz to 960 MHz Gen 2 RFID Laundry Tag which meets all endurance requirements in terms of heat, pressure and chemical resistance required for the contactless tracking of garments in the textile and laundry industries; 860 MHz to 960 MHz UHF RFID Jewelry Tag specially designed for applications including jewelry tagging, inventory management and asset tracking; and 860 to 960 MHz Gen 2 UHF RFID Animal Ear Tag which enables the tracking and monitoring of each cow's feeding, location, vaccination and health history.
For sales inquiries please contact:
1-877 585-9555 ext. 601 – Toll Free (USA & Canada)
1-416 292-0038 ext. 601 – All Other Areas