<![CDATA[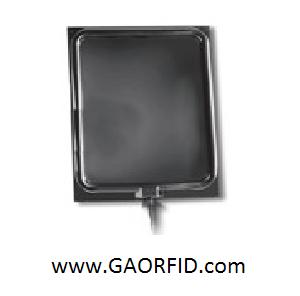 Toronto, Canada – GAO RFID Inc. is offering this low frequency (LF) fixed reader antenna which is specially designed for applications with a demand for long distance identification and large reading volumes. It is perfectly suited for use in agriculture and industrial systems. In combination with a stationary RFID reader, the antenna conducts contactless identification for animals and objects.
This fixed reader antenna panel, model 312001, is usable in double sided arrangements with a single reader for applications that require large read volumes such as at gates or in scales. Different configurations are available for selection in regard to reading volume and installation space. The antenna enables a read range of up to 80 cm with HDX transponders of Ø 30mm or 55 cm with FDX-B transponders of Ø 30 mm. It features compact design and robust construction making it resistant to typical environmental influences.
This low frequency fixed reader antenna belongs to GAO's family of RFID Antenna. This line of products includes a wide variety of RFID antenna to meet customers' different needs. Featured products in line include UHF 902 to 928 MHz 8dBi Linear Reader Antenna and 433 MHz Active RFID Whip Antenna. This line also offers some other antenna for selection such as 134.2 KHz ASA Fixed Reader Antenna Panel, 2.4 GHz 14 dBi Outdoor Directional Antenna, 433 MHz. Active RFID Circular Polarised Patch Antenna and some other similar products.
For sales inquiries please contact:
1-877 585-9555 ext. 601 – Toll Free (USA & Canada)
1-416 292-0038 ext. 601 – All Other Areas