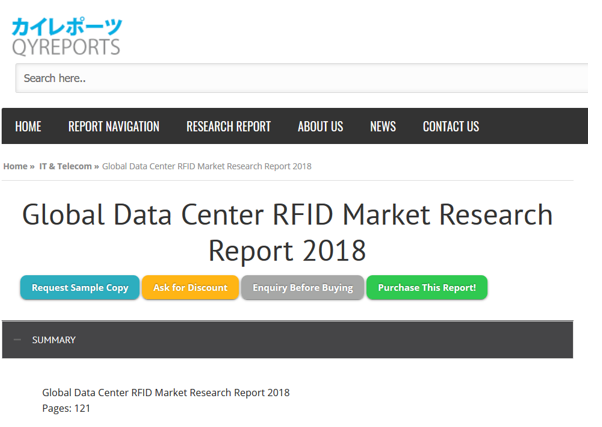 GAO RFID is a world leader in RFID products, systems and solutions. Our large selection of RFID hardware including readers and tags cover a broad range of frequencies. We also offer specialty RFID readers and tags that are customized to meet various specific needs of every industry. Not only that GAORFID also offers RFID peripherals such as RFID printers, relay controllers, antennas, transmission terminals etc. With over 20 years of experience and over 1000 RFID systems deployed in more than 40 countries, GAORFID has earned itself a reputation of being a professional and reliable company.
GAORFID's success has been recognized by market research companies which carry out market research on thousands of industries worldwide. It has been recognized as a key player in several sectors across the world by the market research provider companies.
Global Data Center RFID Market Research Report 2018
This report analyses the current state of the global Data Center RFID Market industry. It provides development trends, competitive landscape analysis, and key regions development status. Besides discussing development policies and plans, the report also provides information on import/export consumption, supply and demand Figures, cost, price, revenue and gross margins.
The report covers Data Center RFID Market basics, industry chain overview; industry policies and plans; product specifications; manufacturing processes; cost structures etc. It analyzes main region market conditions across the world including the product price, profit, capacity, production, capacity utilization, supply, demand and industry growth rate.
Global Data Center RFID Market Research Report focuses on global leading industry players and provides information such as company profiles, product specification, price, cost, revenue and contact information. GAO RFID is recognized as a major player in Global Data Center RFID Market by this report.
The Top Key Players included in this Market are:
Hewlett-Packard
International Business Machines Corporation (IBM)
Avery Dennison
GAO RFID Inc.
Impinj, Inc.
RF Code
Omni-ID Ltd.
Zebra Technologies Corporation
Alien Technology Corporation
Invengo Information Technology Co., Ltd.
Data centers contain expensive, mission-critical assets that need to be managed carefully. The hardware and the valuable data contained on servers have also to be kept safe. RFID helps data centers to manage, track and locate, and reduce the security risks associated with critical computing assets. It helps in increasing regulatory compliance, improving auditing procedures and reducing the costs associated with IT asset management.
GAO RFID offers complete solutions related to deploying RFID on IT assets in data centres, including:
Increasing the inventory automation and accuracy of mission-critical data-centre assets for optimized utilization and cost reduction
Providing real-time location and security management of critical IT assets to lower the risks associated with computing assets and networks
Secure and efficient media and data tape tracking
GAO RFID's RFID Readers and Tags make it easy to gather physical asset inventory and location data. Our solutions help in increasing the visibility of your data centre's IT assets.