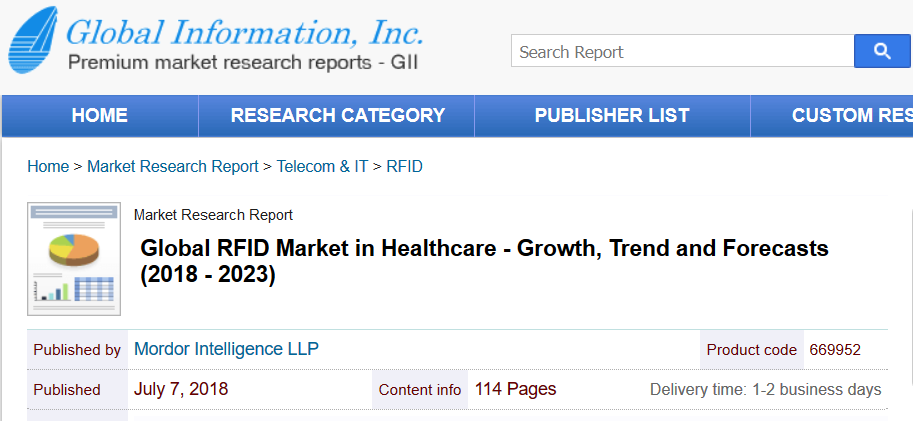 GAO RFID is a world leader in RFID products, systems and solutions. Our large selection of RFID hardware including readers and tags cover a broad range of frequencies. We can also customize RFID readers and tags to meet specific needs of every industry. GAORFID also has RFID peripherals such as RFID printers, relay controllers, antennas, transmission terminals etc. With over 20 years of experience and over 1000 RFID systems deployed in more than 40 countries, GAORFID has earned itself a reputation of being a professional and reliable company.
GAORFID's success has been recognized by market research companies. It has been recognized as a key player in several sectors across the world by the market research provider companies.
Global RFID Market in Healthcare – Growth, Trend and Forecasts (2018 – 2023)
This report covers the global RFID healthcare market and studies the growth rate, market size, market drivers, restraints, revenue forecast for the years 2018 to 2023. The RFID Market in Healthcare is expected to register a CAGR of over 20%, during the forecast period 2018 – 2023. The scope of the market covers the hardware, systems and solutions.
The report analyzes Global RFID Market in Healthcare Segmentation – by type, by application, by end user, and by geography. It provides future outlook of the market and offers profiles of key RFID vendors. GAO RFID is recognized by this report as a key vendor in the global RFID market
Smartrac N.V.
Avery Dennison Corporation
CCL Industries, Inc.
Alien Technology Corporation
Gao RFID, Inc.
Honeywell International Inc.
Impinj Inc.
Mobile Aspects, Inc.
RF Technologies
STiD Groupe
Solstice Medical, LLC
Stanley Healthcare
RFID improves the visibility of the entire process and it also offers a large number of applications that can benefit the healthcare industry. RFID allows healthcare providers not to deviate from their main goal of providing outstanding patient care service without compromising on quality. Basically, RFID makes it possible for hospitals to use their resources more effectively. Majority of the healthcare companies across the globe have experienced exponential growth and possess the capability to further transform business productivity to an advanced level by adopting RFID technology.
GAO RFID provides a wide range of solutions that help to reduce costs, improve operational efficiency, and ensure safety, enabling healthcare providers to provide high-quality patient care services.
GAO RFID offers a number of RFID Readers and Tags which allow valuable medical equipment to be tracked. Managing inventory of items such as stents, pacemakers, and heart valves is made possible by GAO RFID. Tracking hospital personnel and patients, controlling access to rooms, medication cabinets, time attendance of employees and more, GAO RFID provides products for all these requirements.