Global Data Center RFID Market Research Report 2018 by Manufacturers, Regions, Types and Applications
<![CDATA[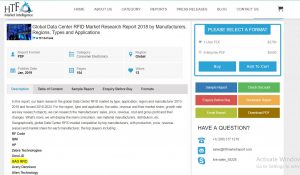 Global Data Center RFID market research report analyzes sales, revenue, market share and growth rate of data center RFID market from 2013 to 2018 and forecasts the same for 2019-2024. Sales, prices, revenue and Market share of key manufacturers are studied. Key players according to the report:
RF Code
IBM
HP
Zebra Technologies
Omni-ID
GAO RFID
Avery Dennison
Alien Technology
Impinj
Invengo Information Technology
GAO RFID is cited as one of the key players in the data center RFID market.
GAO RFID offers a complete solution for deploying RFID on IT assets in data centers.
GAO Data center RFID solutions
 allow to optimize asset utilization, reduces cost, allows real-time tracking, security management, and improves risk mitigation at data centers. https://www.htfmarketreport.com/reports/1541646-global-data-center-rfid-market-4]]>