<![CDATA[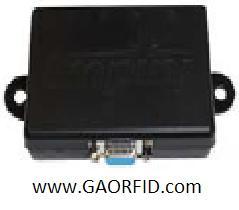 Toronto, Canada – GAO RFID Inc. is offering its GPIO adapter ideal for a wide range of applications such as RFID smart shelves or document tracking applications. This GPIO Adapter can be used together with the RFID Reader Antenna Hub model 491028, and the UHF Gen 2 RFID Reader/Writer model 236015.
The GPIO adapter, model 491029, is capable of providing a low cost, large, contiguous RFID read zone by enabling 5 to 32 antennas to be attached to a single reader. Installation is quick and easy with included antenna virtualization software, GPIO Adapter Kit and system feedback including LED status indicators and software providing diagnostics and alerts. It utilizes 1 GPIO input and 4 digital I/O connectors as well as a 5 V power supply. In addition, this device has passed FCC, CE and RoHS certifications.
This high performance GPIO adapter belongs to GAO's family of RFID Peripherals. Other featured products in this line include Industrial Wiegand-to-Ethernet Controller which has embedded network connectivity ability making it suitable for Ethernet, dialup, remote access server as well as 802.11 Ethernet adapters, private radio, satellite or 3G cellular data modem; RFID Access Control Device with Multiple Identification Methods featuring multiple identification methods, high accuracy and reliability and fast identification speed; and UHF GPRS Data Transmission Terminal which is applied to electric power automatic systems, industrial monitoring, traffic management, atmospheric monitoring or pipeline network monitoring.
For sales inquiries please contact:
1-877 585-9555 ext. 601 – Toll Free (USA & Canada)
1-416 292-0038 ext. 601 – All Other Areas