<![CDATA[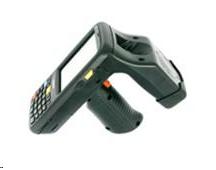 This handheld mobile computer effortlessly combines an ultra high frequency reader with a 1D/2D barcode scanner that incorporates WCDMA/ EDGE/GSM/GPRS communications with Bluetooth 2.0, integrated A-GPS and WLAN connectivity. Essentially, this handheld does everything you'd expect and allows you to use it anywhere, anytime with ease.
It comes with a generous 3.5" high definition touch screen and features 262 thousand colours as well as 32 numeric keys with the option of a full QWERTY keyboard including all forty-seven keys. It's large memory capacity means you won't get left high and dry, but for added capacity, there is also a micro SD card slot built right in. The Handheld RFID Mobile Computer also boasts some 256 MB RAM and up to 2 GB ROM flash and because it is compatible with WLAN connectivity options, offices and hot spots will be instantly connected to your device.
This model of mobile computer is compliant with ISO18000-6C, Class 1 GEN 2 that comes standard. It will operate under a wide variety of operating systems including Windows mobile 6.5 and Windows CE 5.0. Its ease of use is only made simpler by the device being battery powered and weighing just 522g including the standard, included battery. It has also been specially sealed with an IPS4 sealant that affords it complete protection from dust and splashing liquids that it may come in contact with, giving you added peace of mind. Its dimensions of 75mm x 129mm x 174mm makes it easy to take with you and hold in your hand, offering you more mobility than ever before.
The handheld RFID Mobile Computer has an operating temperature of -10C to 60C and offers a storage temperature of -20C to 70C, while its battery needs just five hours of charging time for a complete charge. It also includes a flash light and camera and comes complete with a 1D barcode scanner. (2D barcode scanners are an available option on this device)
If you are looking for ease of operation, unparalleled connectivity and a two in one that will alleviate the need for two separate devices, look no further than the UHF 860-960 MHz Handheld RFID Mobile Computer.
]]>