<![CDATA[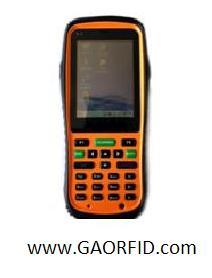 Toronto, Canada – GAO RFID Inc. is offering its 13.56 MHz HF handheld RFID reader supporting GSM systems. This device is an ideal solution for access control, postal service, warehouse management, logistics and personal identification.
This 13.56 MHz high frequency RFID reader, model 243014, reads and writes high frequency RFID tags compliant with ISO14443A/B and ISO15693 protocols. It provides a FLASH memory of 64 MB and a SDRAM memory of 128 MB. It also has built-in GPS positioning and built-in microphone.
This reader utilizes RS232 or USB interface for data transfer. Bluetooth, WiFi, WCDMA (2100) and voice communication are also available. Operating under Windows CE 5.0 system, this advanced RFID reader provides a full-featured SDK. Additionally, this portable reader is integrated with water-proof keys and is shock and dust resistant to withstand any harsh environment.
This 13.56 MHz HF handheld RFID reader belongs to GAO's family of 13.56 MHz RFID Readers. Other featured products in this line are All-in-One HF Mid-Range Reader/Writer well suited for use in document management, jewelry inventory, medicine tracking and general asset tracking; Handheld RFID Data Collection Terminal which reads ISO15693, ISO18000-3, ISO14443A and ISO14443B compliant tags and is also able to read 1D, 2D and other format barcodes; and 13.56 MHz Desktop RFID Reader/Writer specially designed for use in either desktop or embedded applications such as document tracking where it is required to read and write information to a limited number of stacked RFID tags.
For sales inquiries please contact:
1-877 585-9555 ext. 601 – Toll Free (USA & Canada)
1-416 292-0038 ext. 601 – All Other Areas