<![CDATA[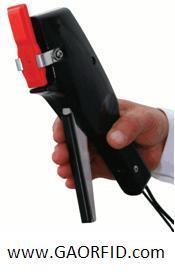 Toronto, Canada – GAO RFID Inc. is offering its intelligent RFID clothing tag unfastener compliant with ISO18000-3 standard. Together with Dual Locking RFID Clothing Tag, this unfastener is specially used for theft reduction, shrinkage reduction and easy inventory management.
This RFID clothing tag unfastener, model 491027, contains an embedded RFID reader. It operates over an ultra high frequency of 860 MHz to 960 MHz in both near field and far field. It has already been successfully deployed in a number of department stores each of which has seen a notable return on investment. Upon tag detachment, clothing tag unfastener is able to store the RFID tag information and provide complete data on when, where and even who removed the tag. Real time information collection can be compared with actual sales of merchandise as well as detail the individual transaction.
This easy to use RFID clothing tag unfastener belongs to GAO's family of RFID Peripherals. Other featured products in this line include Industrial Wiegand-to-Ethernet Controller which has embedded network connectivity ability making it suitable for Ethernet, dialup, remote access server as well as 802.11 Ethernet adapters, private radio, satellite or 3G cellular data modem; RFID Access Control Device with Multiple Identification Methods featuring multiple identification methods, high accuracy and reliability and fast identification speed; and UHF GPRS Data Transmission Terminal which is applied to electric power automatic systems, industrial monitoring, traffic management, atmospheric monitoring or pipeline network monitoring.
For sales inquiries please contact:
1-877 585-9555 ext. 601 – Toll Free (USA & Canada)
1-416 292-0038 ext. 601 – All Other Areas