<![CDATA[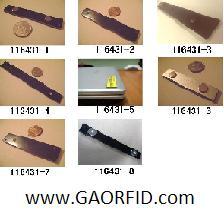 Toronto, Canada – GAO RFID Inc. is offering its on metal, temperature resistant UHF RFID tag series which are specially designed for mount-on-metal and high-temperature environment applications. They offer precise real-time data collection for identification, tracking, and localization of various assets.
These on metal, temperature resistant UHF RFID tag series, model 116431, utilizes Ultra High Frequency (UHF) technology to enable a long communication range from either a handheld or fixed RFID reader. High volumes of RFID tags can be recognized simultaneously due to their use of a highly advanced anti-collision multi-tag-handling algorithm. These sturdy ultra thin tags offer robust performance at an attractive price point and provide users with a diverse selection of options depending on intended use. Laser printed 1D and 2D barcodes and other text are optionally available for the tags.
The on metal, temperature resistant UHF RFID tag series belong to GAO's family of UHF Gen 2 EPC RFID Tags. This line includes a variety of tags for different applications such as 860 MHz to 960 MHz Gen 2 RFID Laundry Tag which offers a memory capacity of 96 bits and a long read range of 2 to 5 m; 860 MHz to 960 MHz UHF RFID Jewelry Tag specially designed for applications including jewelry tagging, inventory management and asset tracking; and 860 to 960 MHz Gen 2 Passive Windshield RFID Tag which has been successfully deployed for secure automobile access solutions and is well suited for various applications such as access to parking or other gated areas.
For sales inquiries please contact:
1-877 585-9555 ext. 601 – Toll Free (USA & Canada)
1-416 292-0038 ext. 601 – All Other Areas