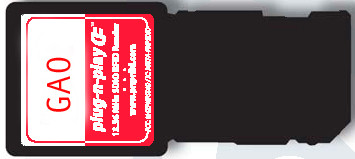 Toronto, Canada – GAO RFID Inc. has launched its high performance contactless plug and play RFID reader, with a secure digital (SD) interface. It is utilized for contactless, cashless payment, public transportation, consumer retail, event management, pharmaceutical and healthcare and access control. This practical RFID reader operates at a frequency of 13.56MHz and can be used in smart phones and PDAs.
This RFID reader, model 223002, has a built-in antenna and accurately identifies tag IDs at a fast baud rate of 115,000bps without flow control. It eliminates the complexity of RFID integration by using secure Plug and Play technology. The portable reader has a maximum read distance of 6cm and supports multi-detection. Transponders compliant with ISO14443 A&B, ISO 15693, ISO18000-3, INSIDE PicoTag™, Tagsys C320, MIFARE, FeliCa™, KSW TempSens and KSW Variosens standards are available for this RFID reader. The compact RFID reader supports a wide range of data structures including STX, DATA, CR and LF.
Visit http://www.GAORFID.com for more information.
For any sales inquires please contact:
1-877 585-9555 ext. 601 – Toll Free (USA & Canada)
1-416 292-0038 ext. 601 – All Other Areas
For more information about this product please visit plug and play RFID reader, or contact sales@gaorfid.com.