<![CDATA[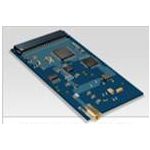 This reader module, Skye Module M9 has high performance down to a fine art. Not only is it secure, easy to use and power efficient but it is also flexible and has a forward compatible platform that supports future tag protocols, security features and customized enhancements. In short, whatever you need this reader module to do for you now and into the future, it will have you and your business covered.
This ultra high frequency radio frequency identification reader module is perfect for many applications including anti-counterfeiting, item level inventory management, printing and encoding, patron management, access control and asset management, among many others. It offers the user unsurpassed clone and tamper protection and offers both counter and time based policy support.
Being a Skye Module device, this reader runs on Skye Tek C, API, v 3.0, Skye Tek Protocol v 3 software and also has a Skye Ware developer interface and demonstration applications included. It also comes with embedded readerware including Tag IQ, fast inventory with anti-collision, and field upgradable firmware that you can customize to suit your needs.
At 66mm x 36mm x 5mm and weighing just 10.7 grams, this UHF RFID reader module can easily be placed anywhere while maintaining a small footprint. Its 3.5m read range with 6 dBi makes it an integral part of your office or warehouse application and using the linearly polarized antenna means singulation performance of up to 50 tags a second can be achieved, although 25-35 is typical.
When you are looking for a reader module for use over many applications that promises high performance with all the state of the art software protocols, look no further than the UHF RFID reader item number 716001.
]]>