RFID Event Management System
Track Visitors & Gain Insight
Grant access to your event and track visitors to see what exhibits they visited, how long they stayed. 
What Makes Up an RFID Event Management System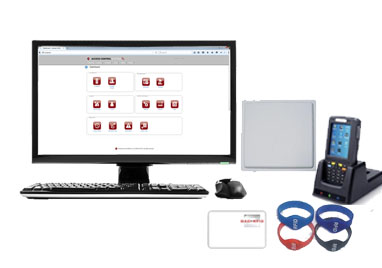 The GAO RFID Event Management System is a fully integrated event management solution that provides access control, advanced event marketing capabilities, and enhanced business intelligence. This is made possible by the following key components:
GAO Event Management Software
GAO RFID Tags (Wearable Event Credentials)
GAO RFID Readers
These key components work together to provide a premier event experience for guests while delivering in-depth visitor data for business analysis.
In three simple steps, the GAO Event Management System helps you take your company event to the next level by automating attendance, enriching event marketing goals, and empowering you to know exactly how your guests are interacting throughout the event. Here's how:
STEP 1:
Wearable GAO RFID Tags such as lanyard badges and wristbands are given to your guests.
STEP 2:
GAO RFID Readers are installed at strategic points in your event environment such as entrances, exits, booths, and exhibits so that they can "read" the signals being broadcasted by the GAO RFID Tags worn by event attendees.
STEP 3:
Each GAO RFID Tag worn by your guests transmits data. This information is then imported into the GAO Event Management Software. Through an intuitive interface, you can control access to club-level seating or VIP lounges, see the length of stay and peak times of visitors, see traffic flow and event hot spots, and even track individual guest locations in real-time.
Attendee Identification & Authentication

Manage Access to Restricted Areas

Valuable Data For Analysis

Streamline Registration

Stop Counterfeit Passes
RFID Event Management System Details
Click on any item below to learn more
Event management is the behind-the-scenes planning of bringing together guests, sponsors, and stakeholders to create a memorable and profitable event for your business. As the cost of organizing such events continue to rise, maximizing your returns from them is critical. Event Management is no longer only about efficiency and automation; instead, an increasing number of organizations now demand event management solutions that improve data capturing and engage attendees using a social media strategy.
To deliver on these demands, you will need to overcome the following challenges in event management:
Ensuring event access control
Every event needs a method of registration, admission, and an efficient way to log attendance. For some events, the need to eliminate counterfeit passes is a key focus. And in situations where there are exclusive areas, a quick and accurate way of providing access is also a must.
Enrich communications and marketing at the event
The goal of any event is to communicate company and sponsor messages, create networking opportunities, and develop new leads. Ensuring all event collateral are received by attendees is considered top priority.
Enhance business intelligence from event results
It's not enough that guests are at the event. Businesses are demanding heightened visitor analytics including length of stay, peak traffic time, population segmentation, and event area hot spots. More information equates to critical business intelligence that boosts future performance.
Event Management using Radio Frequency Identification (RFID) is the answer to overcoming these obstacles. By using an RFID Event Management system, requirements such as automated access control, effective on-site marketing, and data-rich business intelligence can all be delivered using one customized solution.
Wondering if your next event can benefit from RFID Event Management? The following questions can help you to decide:
Do your guests typically experience long registration and admission wait times at the door?
With RFID tickets or badges, attendee information can be pre-registered and guests can simply walk into the conference, sporting event, or trade show and their information is automatically recorded in the event database.
Is it difficult to ensure that your paper marketing collateral is distributed successfully to all participants?
Brochures and programs can be sent electronically to an attendee's registered inbox by a simple tap of their RFID badge, ensuring all marketing collateral are delivered to your audience.
Did you invite VIP guests who need a personalized level of service?
RFID badges can be pre-programmed for VIP attendees so that they can receive a personalized welcome and exclusive access to special zones.
Does your client want to engage guests to update LinkedIn and Facebook status messages to promote the event?
By using RFID-enabled social media kiosks, attendees can interact using their RFID badges and help increase the visibility of your event through popular social media platforms.
Do you need feedback from participants who attended your conference?
By knowing exactly who were at your conference or workshop, you can email surveys and receive feedback on the sessions that your guests attended.
Do you need real-time information on event traffic patterns and specific exhibit visits?
An RFID solution can be designed to actively read attendee behaviour in real-time to give event managers insight on participant habits and interests.
If you answered yes to any of the questions above, then the GAO RFID Event Management System can help you achieve big data insights and ROI from your next event.
How RFID Applies to an Event Management System
Click on any item below to learn more
By integrating RFID technology into PR events, trade shows, and corporate conferences, event managers are able to provide event planning and production strategies that deliver measurable results. Attendees are provided wearable RFID tags such as lanyards, badges, and wristbands that contain pre-registered guest information. This allows them to access the event easily, while event organizers are able to automatically authenticate guests and capture attendance data as they arrive.
When attendees move through different zones of the event, the RFID tags broadcast their location and interaction patterns. Simple RFID Event Management applications can enable streamlined registration processes and VIP access management. Advanced configurations, on the other hand, can provide specific interaction information, and integrate with social media platforms to broadcast real-time participant engagement. The result is the ability to capture large amounts of valuable information that can be used for data mining to optimize an organization's sales and marketing processes.
The GAO Short Range Event Management System is one of the Passive RFID versions available for use when planning your event. Using the 125 KHz and 13.56 MHz frequencies, the system utilizes both high and low radio frequencies.
Being a Short Range system, it is perfect for "tap and go" solutions that require the reading of tag information within a distance of 2-6 cm. This is a popular way for your guests to complete any actions during the event. Whether it is identifying them to gain entrance at the door or encouraging them to visit every feature of your event with scan-venger hunts for prizes, the actions can be completed without requiring manned operators to collect the information. As a result, data is sent immediately to the Event Management database for access to real-time information.
The Bottom Line:
The GAO Short Range Event Management System provides:
An economical and easily scalable solution
Access control to different areas of your event
Attendee behaviour information from "tap and go" interactions
The GAO Mid-Range Event Management System is one of two Passive RFID versions to choose from when strategizing your event. This system uses the 900 MHz Ultra-High Frequency (UHF) band that can be read within distances of up to 5 metres which allows you to retrieve attendee information without requiring any active participation. RFID Readers positioned at booths and rooms send signals to the RFID Tags worn by your guests. Information is then reflected back to the Reader, providing the Event Management System with detailed traffic pattern and length of stay information.
The Bottom Line:
The GAO Mid-Range Event Management System offers:
Mid-range reading that does not need line of sight
Attendee interaction information without requiring active participation
Detailed visitor analytics
The GAO Long Range Event Management System is the Active RFID version of our event management solution. Using the 433 MHz and 2.45 Ghz bands, the system is capable of reading distances of up to 100 metres. The RFID lanyard badges or wristbands worn by event attendees have their own transmitter and power source. This means they continuously transmit information to the RFID Receivers installed throughout your venue, enabling real-time views on session attendance and floor traffic. Traffic flow, population segmentation, and real-time counts; all of these and more are readily at your fingertips when you have our Long Range Event Management System installed at your event.
The Bottom Line
The GAO Long Range Event Management System helps you:
Attain real-time monitoring of event and security staff for efficiency and accountability
Enhance guest experience with social media check-in points that engage guests to 'Like' event displays, upload photos, or earn rewards
Get unprecedented knowledge about your audience
GAO Event Management via the Cloud or SaaS
The GAO Event Management System is available as a cloud-computing solution or SaaS. Using our solutions, you won't need to make costly investments in servers and other infrastructure. Instead, our services-based systems allow you to pay for applications only when you need them.
Benefits of the Cloud or SaaS-based GAO Event Management System:
Lower initial investment by avoiding costly infrastructure expenses
Faster roll out for a quicker ROI
Single, short duration deployments perfect for events
Ongoing software updates
Highly scalable
Access anywhere through a web browser
Always-on and secure with the option of hosting on our servers or your own private network
Event Management System: Applications
The GAO Event Management System has been successfully applied to the industries world-wide:

Oil & Gas Industry
Learn how GAO RFID Event Management Solutions can be used at every type of event in the Oil & Gas industry including Product Launches, VIP Events, Trade Shows, and Conferences.
Discover GAO Event Management System solutions for the Oil & Gas Industry

Manufacturing Industry
GAO RFID Event Management Solutions for manufacturing industries can be used to make the most out of events including Product Launches, and Trade Shows.
Discover GAO Event Management System solutions for the Manufacturing Industry

Construction Industry
GAO RFID Event Management Solutions can be used at VIP Events, Trade Shows, and Conferences in the construction industry.
Discover GAO Event Management System solutions for the Construction Industry
We are here for you.  We can help tailor an RFID Event Management System around your client's needs including custom reports and software solutions combined with all the right hardware. 
Our experts are here to help you with all questions, needs and support.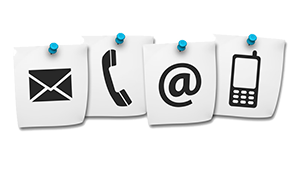 Would you like to know more about RFID Event Management Systems
? Would you like to know how it can apply to your industry?
Please contact us and one of our experienced sales staff would be more than happy to answer all your questions!