High Frequency 13.56 MHz Passive RFID Readers

GAO RFID's High frequency (HF)13.56 MHz readers can read tags within a distance of 1 to 12 inches and include the use of the NFC protocol. Compatible with most MIFARE™ tags, we offer HF 13.56 MHz readers in many form factors such as fixed readers or handheld devices that are perfect for your desktop or mobile environment.
Our customers popularly use HF 13.56 MHz RFID readers in their system configuration to track valuables such as library books, ID cards for access control, and gaming chips. With readers designed to be compact, rugged, or even Bluetooth enabled, we have the high frequency readers you need for your 13.56 MHz high frequency tags.
Find the HF 13.56 MHz Reader You Need
We offer a complete range of HF 13.56 MHz readers to suit any business application. Feel free to browse our selection of readers below.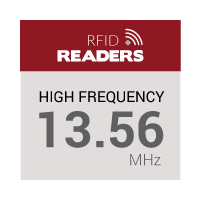 Showing all 38 results
Featured Products
---
Products
---