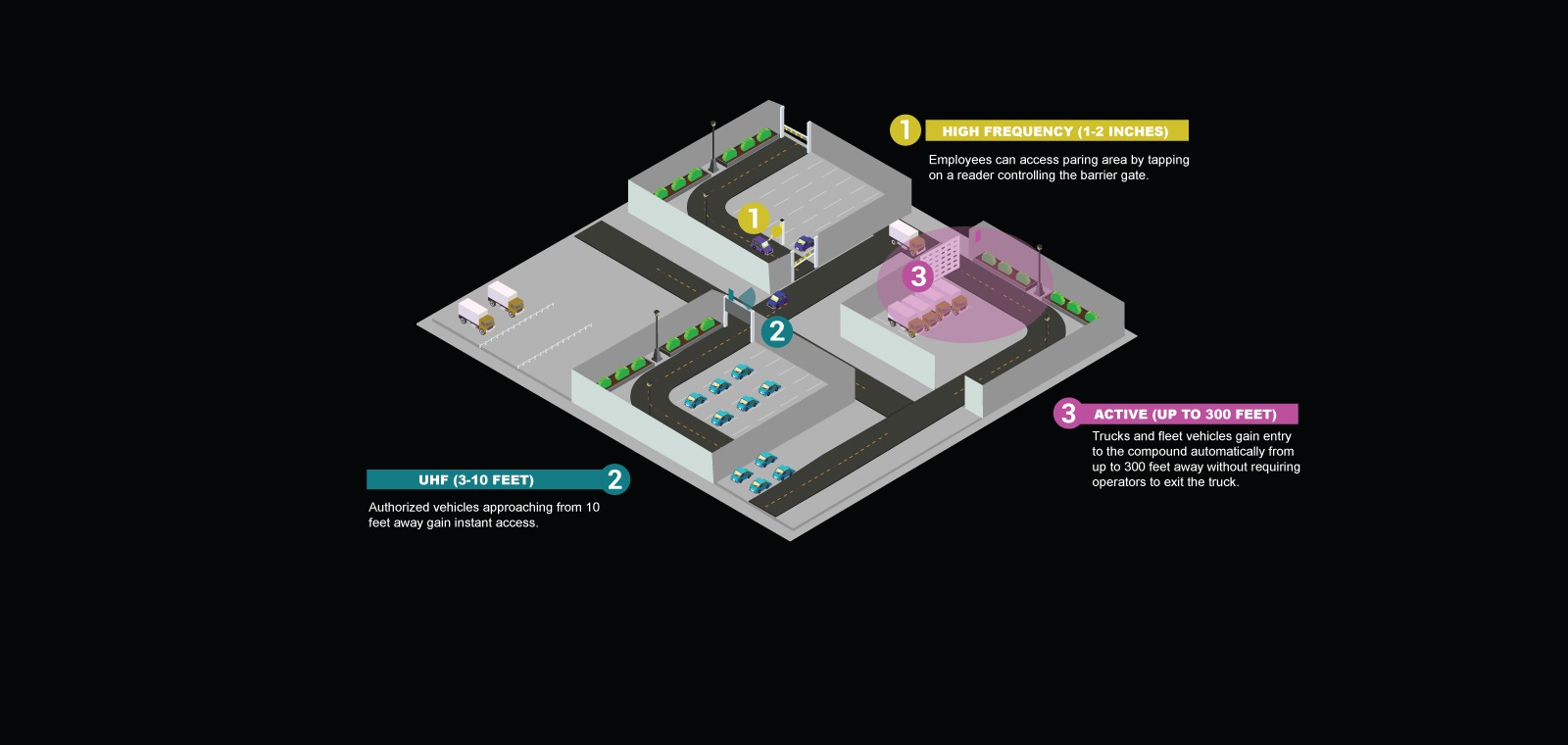 What Makes Up an RFID Parking Control System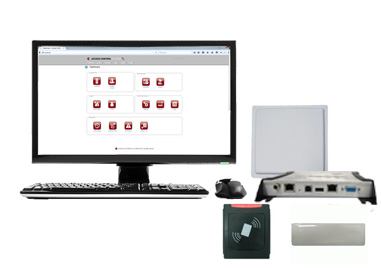 The GAO RFID Parking Control System is a control and monitoring system designed for use at residential condominiums, gated communities, business parking garages, university parking areas, and hospitality or retail centers. The system is powered by three key components:
GAO Parking Control Software
GAO RFID Vehicle Tags (hang tags and windshield tags)
GAO RFID Readers
These three components work together to provide vehicle parking control, and is highly customizable to fit the requirements of any parking facility. The GAO Parking Control System ensures access is only granted to authorized vehicles in three simple steps. Here's how:
STEP 1:
GAO RFID Vehicle Tags are assigned to all vehicles.
STEP 2:
GAO RFID Readers are installed at entry and exit points within the parking facility. When vehicles approach, the Readers "read" the signals being broadcasted by the RFID Tags displayed on each vehicle.
STEP 3:
The GAO RFID Vehicle Tag transmits data, and this information is then imported into the GAO Parking Control Software. The software tells the system to grant access to the vehicle, records their activity, and can even trigger surveillance cameras at the entry/exit points or log and bill back parking charges to the customer. This is all accessed through an easy-to-use interface
Parking Control System Benefits

24 Hour Unmanned Operation

Remote Management

Multiple Locations Managed From One Location

Reduce Operation Expenses
RFID Parking Control System Details
Click on any item below to learn more
If your business offers parking areas to customers, then you will require a cost-effective and secure parking control solution for your facility. Whether it is for an office building, residential condominium, gated community, hotel, RV camp, stadium or university, an intelligent parking control system will provide efficiency, safety, and security for both your clients and their vehicles.
How does Parking Control reduce operating costs and increase revenue?
When you manage a busy parking lot that provides around the clock access with multiple entry and exit gates, staffing each gate with attendants is a costly expense. With a Parking Control system, the entire parking facility can be unmanned, providing a highly economical way to operate the parking facilities of your property. In addition, there is the ability to monitor and log parking duration and frequency to automatically bill parking charges, ensuring revenue is collected regularly.
How Parking Control ensure safety and security?
The safety and security of parked vehicles is a top priority. Using a Parking Control system, movement of vehicles can be identified and tracked which ensures the security of all vehicles. Access to and from the parking area can also be controlled based on predetermined times authorized by the system administrator, and activity at parking barriers can trigger surveillance cameras to record vehicle movement. This adds up to a safe and secure environment for all vehicles on premises.
How does Parking Control improve customer service?
Long queues to exit parking lots and cumbersome payment processing methods lead to frustrated customers. A Parking Control system offers the automation of in and out payments and reduces customer queues when exiting. By relieving congestion within parking areas, customers naturally become more satisfied.
Parking Control provides the answers to businesses that frequently ask these questions when searching for an automated parking solution:
We need to have improved control of our parking operation
We want to ensure the security of the parking facilities on our university campus
We require a way to combine parking control with revenue collection
We need to be able to capture all vehicles, their location on the lot, and time and date of entry/exit
We want to control the time that certain vehicles can enter or leave our parking facility
We'd like to have a way to see all vehicles present in our facility, in real-time
We plan to eliminate both manual record keeping and manned stations from our parking lot operation
We want to be able to display real-time parking display boards that show our customers the number of empty parking spaces currently available at every level within our busy shopping center
Radio Frequency Identification (RFID) Parking Control is the solution that provides the answers to all of these challenging questions.
At GAO RFID, we have been providing solutions for our customers to automate parking control at their locations for over a decade. While we offer customized solutions, below are the Parking Control Systems we have developed and deployed for our customers:
HOW RFID APPLIES TO A PARKING CONTROL SYSTEM
Click on any item below to learn more
PARKING CONTROL SYSTEM: APPLICATIONS
The GAO Parking Control System has been successfully applied to the industries world-wide: