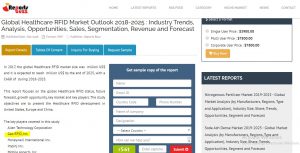 Global Healthcare RFID Market report forecasts the market growth of healthcare RFID market to 2025. The report studies healthcare RFID development in the United States, Europe, and China. Healthcare RFID Market status, growth opportunity, a key market, and key players are analyzed.
Key Players covered in the report are:
Alien Technology Corporation
Gao RFID, Inc
Honeywell International Inc.
Impinj Inc.
Mobile Aspects, Inc.
RF Technologies
Radianse
STiD RFID
Solstice Medical, LLC
Stanley Healthcare
GAO RFID is considered as one of the key RFID players in the healthcare RFID market. GAO RFID healthcare solutions help to reduce costs, improve operational efficiency, and ensure safety; enabling healthcare providers and administrators to make the most effective clinical and business decisions.
http://www.reportsbuzz.com/79510/global-healthcare-rfid-market-outlook-2018-2025-industry