Global RFID Tag/Label Market 2019 Size, Insights, Demand and Forecast 2024
<![CDATA[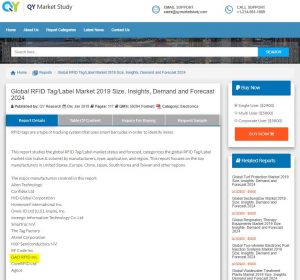 The Global RFID Tag/Label market report studies the production, revenue, price, market share and growth of RFID tag/label from 2013 to 2017 and forecasts the same to 2024. Potential and advantage, opportunity and challenge, restraints and risks of global and key market regions are analyzed. Capacity, production, value, markets share and future development plans of key players are studies. Major manufacturers of RFID tags/labels according to the report are:
Alien Technology
Confidex Ltd
HID Global Corporation
Honeywell international Inc.
Omni-ID Ltd (U.S.)
Impinj, Inc.
Invengo Information Technology Co. Ltd
Smartrac N.V.
The Tag Factory
Atmel Corporation
NXP Semiconductors N.V.
RF Code Inc.
GAO RFID Inc.
CoreRFID Ltd
Ageos
GAO RFID is recognized as one of the major manufacturers of RFID tags/labels market. GAO RFID offers a wide range of RFID tags that meet the demands of every business environment. 
GAO RFID
tags are designed to comply with global frequency standards thus making them compatible with most RFID readers. GAO RFID tags/labels enable you to track retail inventory, livestock or people, monitor precious cargo to ensure they are not tampered with or track assets in environments where liquid and metal are predominant. https://www.qymarketstudy.com/report/global-rfid-taglabel-market-59284#report-detail]]>