Global RFID Tags Market Insights, Forecast to 2025
<![CDATA[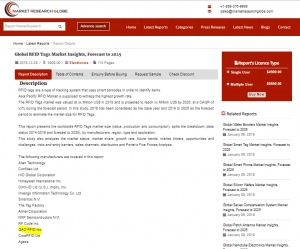 Global RFID tag Market report studies value, production, and consumption of RFID tags from 2014 to 2019 and forecasts the same up to 2025. The market status, market share, growth rate, future trends, market drivers, opportunities and challenges, risks and entry barriers, sales channels, distributors of RFID tag market are analyzed. Production, revenue, market share and recent developments of key manufacturers are presented. Key manufacturers of RFID Tags according to the report are
Alien Technology
Confidex Ltd
HID Global Corporation
Honeywell International Inc.
Omni-ID Ltd (U.S.), Impinj, Inc.
Invengo Information Technology Co. Ltd
Smartrac N.V.
The Tag Factory
Atmel Corporation
NXP Semiconductors N.V.
RF Code Inc.
GAO RFID Inc.
CoreRFID Ltd
Ageos
GAO RFID is recognized as one of the key manufacturers of RFID tags. GAO RFID offers a complete range of RFID tags to demands of various businesses. 
GAO RFID tags
are compatible with many RFID readers. GAO RFID tags are used in
asset tracking systems
,
access control systems
, and even
WIP tracking systems
.
http://www.marketresearchglobe.com/report/global-rfid-tags-market-insights-forecast-to-2025
]]>