<![CDATA[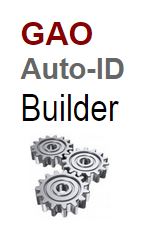 This online platform, GAO Auto-ID builder, allows system integrators and developers to rapidly and efficiently develop their own auto-id applications, including RFID or barcode, across a broad range of verticals on GAO's open cloud-based development and deployment platform.
GAO Auto-ID Builder is based on GAO Auto-ID Engine. Using our extended middleware API and library of drivers, application modules and templates, the user is able to create a customized solution to meet virtually any need for RFID and barcode. This complete set of tools allows the user to configure and monitor the hardware including readers, tags, barcodes and specialty sensors, connect with backend ERP systems, define alert and notify conditions and create customized reports with data filtering – all without the need of complex programming.
A variety of hosting options are available for the finished system. It can be hosted through GAO on our cloud server or migrated to the end-user's private cloud server. Additionally, other conventional operational options are available such as porting the solution to a local server or PC, using a networked connection or running the software as an embedded application.
To find out more about more about GAO Auto-ID builder please contact us .
Become a Contributor
In our continuous development of GAO Auto-ID builder, GAO is actively seeking system integrators, developers and hardware suppliers to participate in our team. If you are interested in joining our team, and would like to discuss the benefits of our program, please inquire using the form below.
Need a Head Start?
Let GAO develop a custom RFID and/or barcode solution for you and hand over your turnkey system. Your flexible system will still remain extensible and can be modified or fine-tuned by your team using our versatile suite of tools.
If you are interested, please inquire using the form here.
]]>