A powerful and reliable access control system designed for large commercial buildings with multiple tenants.

Automated Access Control
Assign tap and go access control cards or implement biometric scanning to have full control over what areas tenants and employees can access.

Multiple Tenants
Support multiple tenancies in one system and grant access to different areas while also enabling common access to shared areas shared between multiple tenancies.

Unauthorized Detection
Know who and when a non-approved zone was accessed and be able to receive alerts when such events occur.

CCTV Integration
Integrate existing CCTV systems to trigger upon access authorization of rooms throughout the building.
Powerful Access Control for Big Commercial Buildings
The GAO RFID Commercial Building Access Control System is our powerful access control system that is designed for large commercial installations to provide automated access control and an enhanced level of security. Whether it is a commercial tower or sprawling tech campus, our access control system delivers a reliable way for building management and company owners to control access.
Our Access Control System for Commercial Buildings is a modern solution that easily enables you to grant authorized users access to specific rooms and areas in your building without the need for expensive rekeying. The system is powered by three key components:
GAO Access Control Software
GAO RFID Badges/Tags
GAO RFID Readers & Antennas
Combined, these components provide an easy way to manage and administer user access to any part of your commercial building.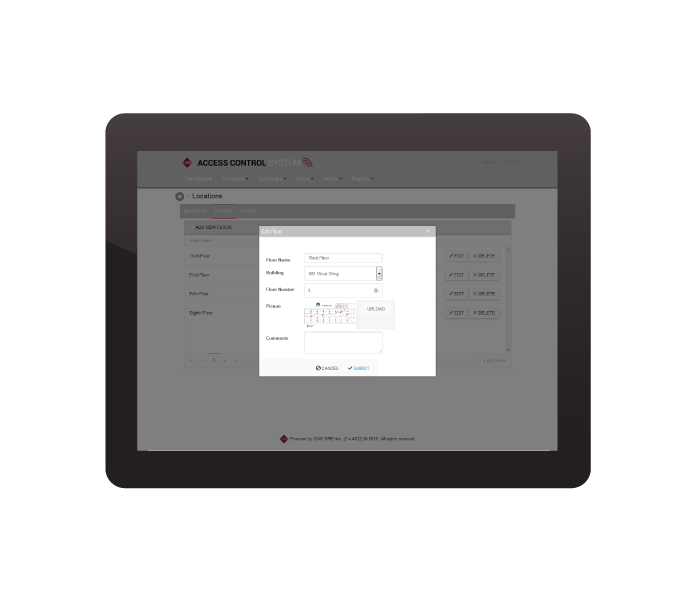 Recommended Hardware Configurations
With our large selection of RFID hardware, the configuration combinations for the GAO RFID Commercial Building Access Control are endless! Below are a few examples of the hardware configurations we recommend for most commercial building applications:
|  Frequency | RFID Tags | RFID Readers | Accessories | Software |
| --- | --- | --- | --- | --- |
| High Frequency | | | | GAO Access Control Software |
| UHF | | | | GAO Access Control Software |
| Active | | | | GAO Access Control Software |
Request a Demo
Want to see how our Access Control System for Commercial Buildings can help your building or organization? Our Expert will walk you through a demo!
We are here for you.  We can help tailor an RFID Access Control System around your commercial building client's needs including custom reports and software solutions combined with all the right hardware.
Our experts are here to help you with all questions, needs and support.