<![CDATA[

This system uses pre-assigned RFID tags for people attending an event with the person's picture and name on the tag. A handheld RFID reader is used to check people in and out of the event.
Hardware: Handheld RFID data collection terminal (PDA), GAO 243015, running Microsoft® Windows™ 5.0 on a Marvell Intel XScale™ PXA3XX 806 MHz processor and HF tags. The reader is also equipped with a 5.0 megapixel camera.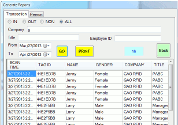 General Description and Software:The handheld device has one application to verify its authorized use with the host system running on a standard PC. When issuing the tag, the person's picture is taken using the handheld PDA and other personal information is entered into the system for upload to the PC software system via USB connection.
Database synchronization is conducted between the host interface on the PC and the handheld units. When an event attendee enters the event area their tag is scanned and the PDA picture and information can be checked against the information (picture/name) printed on the tag.
Customized reports can be generated both on the PDA and the PC based on a number criteria such as company, times, person's name, tag issue date, etc. The software also allows for the de-authorization of tags both manually or by setting a expiry date.
]]>