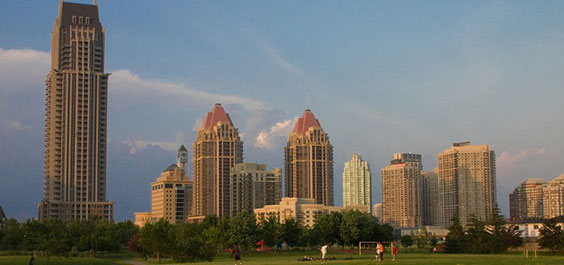 From our head office in Toronto, GAO RFID has been consistently delivering RFID solutions to customers in the Mississauga-Brampton area.
Situated west of Toronto, these cities are two of the most populous in all of Canada. With vibrant neighbourhoods and well-established transit networks: This region is an attractive option for families that want a community-like atmosphere close to Toronto — Canada's largest city. Brampton and Mississauga are also attractive options for tourists because of their cheaper hotel rates and close proximity to Pearson International Airport.
The region is home to a series of landmarks popular with tourists and locals alike. Brampton's Powerade Centre has hosted a number of events, including political rallies featuring Prime Minister Justin Trudeau, Peel Region hockey tournaments, and international concert acts to name a few. Meanwhile, Brampton's beautiful St. Paul's United Church is a wonderful sight featuring stained glass windows and spectacular architectural design. In Mississauga, the Living Arts Centre serves as a cultural gathering place for the community. A short distance away, the Port Credit Lighthouse is a stark reminder of Mississauga's marine heritage.
When it comes to economic activity, North America's most prominent companies maintain headquarters in the Brampton-Mississauga area. Some of the region's most lucrative industries include pharmaceuticals, retail and advanced manufacturing. According to the City of Mississauga, more than 60 of the 'Fortune 500' companies have headquarters here.
GAO's expertise in RFID solutions has made our firm the preferred choice in this region. We are proud to have served a number of clients in Brampton and Mississauga. Below are some of the most popular solutions we have offered them.
Using GAO RFID in the Retail Sector
When it comes to RFID solutions, GAO has improved operations for technology firms, call centres and service-based industries. But retail plazas and shopping malls are expanding at a rapid rate in  Brampton and Mississauga. That's why these sectors have become increasingly interested in RFID as well. They are looking for better ways to manage their inventories — with managers turning to GAO for our expertise. Residents in Brampton-Mississauga are well-served by some of Canada's largest shopping centres. Square One, Erin Mills Town Centre and Bramalea are just some of the retail options available. GAO RFID is a leader in retail inventory tracking. Our systems are no match for the competition. Here's what our Inventory Control System can do for you:
Take the guesswork out of your inventory processes; whether you're tracking IT equipment or a truck full of garments, allow GAO's Tag and Reader components to expertly monitor your valuables
Keep track of your products by tagging each one with an RFID tag; receive alerts if they are removed from your retail space or stock area.
Concentrate on more important things, like quality customer service, by letting our automated RFID technologies take care of small inventory matters for you
Meanwhile, many of our retail clients are relying on GAO technology to replace the outdated barcode system. Barcodes rely on a 'direct line of sight', which means the scanner must be right in front of the printed barcode to read its data. RFID eliminates the need for this close proximity. GAO Readers can pull data from an RFID Tag even 100 metres away. When our Brampton-Mississauga clients implement this technology, they're removing the need for human employees to scan inventory and assets. Making an investment in RFID will protect your bottom line — by dramatically cutting costs in associated areas.
Using GAO RFID in the Manufacturing Sector
As mentioned earlier, more than 60 of the 'Fortune 500' companies have headquarters in Mississauga alone. Many of these headquarters house advanced manufacturing operations. Honeywell Aerospace, Laura Secord Chocolate Company and Kellogg's Canada are among the economic giants with head offices here. Given the nature of these large, and often sprawling, facilities, it's no surprise security is a top priority.
One of the biggest concerns our clients raise is the vulnerability of their security frameworks. When a company occupies large facilities spanning multiple floors with numerous entrances, it can be difficult to track activity and prevent trespassing. To address this concern, GAO has designed a powerful system that lets you maintain authority 24/7. Our Access Control System is one of the most robust systems on the market and is widely used in the manufacturing sector. Here are just some of its features:
Restrict access to authorized personnel by giving staff GAO Tags; they provide access only when in contact with GAO Readers
Keep an eye on building activity using our dynamic, easy-to-use Access Control Software; provides real-time monitoring of entranceways, parking lots and highly-sensitive areas
Increase workplace safety by knowing where your employees are at all times; GAO technology can pinpoint their location in the building, and provide timestamps as to when access and departure occurred
All of GAO's systems can be integrated with our company's other RFID products. Similarly, we can customize our solutions to fit your existing framework.
If your business is thinking of improving its operations, consider GAO RFID. We are leaders in innovative technology and understand a variety of industry needs. From healthcare services to manufacturing construction, GAO is proud to serve a number of sectors.
Brampton-Mississauga is undergoing rapid growth. If your business operates in this dynamic region, choose GAO RFID. Our team of certified experts is eager to help your company reach its organizational goals.