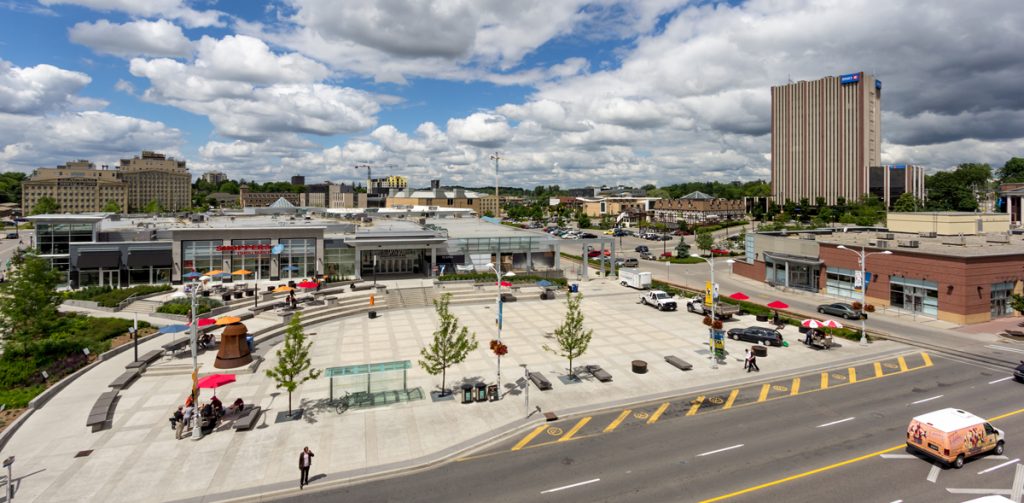 From our head office in Toronto, GAO RFID has been consistently delivering RFID solutions to customers in Waterloo and Cambridge.
The story of Waterloo is fascinating one. Located right next to the bigger city of Kitchener, Waterloo started out as a rare gift from Britain to Canada's indigenous peoples back in 1784. To much controversy, the Natives began selling off parts of this land to foreigners. And the first wave of immigrants to Waterloo were actually Mennonites from Pennsylvania. Of course today, Waterloo features a dramatically different landscape. It is famously known as Canada's technological hub. It is where the world-renowned Blackberry was first conceived back in 1984, and still remains home to the company's headquarters. Meanwhile, the University of Waterloo is known for producing the world's next generation of innovators. But despite 'The Loo's' reputation as a high-tech sphere, residents certainly place much emphasis on leisure. Nearby attractions include African Lion Safari in the town of Flamborough, and the internationally-recognized Stratford Festival.
Heading a bit further east past Kitchener, one comes across the delightful city of Cambridge. Its motto: 'A fine place for business. A great place to call home'. Toyota operates a sprawling plant in Cambridge and remains the city's largest employer. Many workers commute into the city but live in the quieter towns of Preston, Hespeler and Blair. Cambridge is perhaps best known for its many cultural endeavours. The Mill Race and Rock the Mill music festivals are a hit with locals and tourists alike. Meanwhile, the famous Cambridge Butterfly Conservatory is a huge favourite for those who appreciate nature. And no talk of this city would be apt without mentioning the popular Cambridge fall fair, which has been entertaining visitors for more than 100 years.
Despite all the leisure in Waterloo and Cambridge, this region is certainly a major part of Canada's economic success. Two of its most prominent industries are the manufacturing and high-tech sectors. GAO RFID is consistently called upon in these two areas for its expertise. That's why our company's systems have been developed with their challenges in mind. Let's see how GAO has improved operations for these two industries.
GAO RFID in the Manufacturing Sector
Whether you're making auto engines or propulsion units, no doubt a manufacturing plant is a busy and complex place. GAO's Work In Progress (WIP) System is certainly the backbone of any successful operation. Our Tag and Reader components provide a variety of functions. These include logging data as goods pass through each production stage, and compiling this information into comprehensive digital reports.
But GAO RFID is proud to offer a series of solutions that address many other concerns. Among our manufacturing clients, one of their main issues involves the monitoring of their employees. GAO has addressed this challenge by introducing them to our Personnel Tracking System. It uses RFID technology to monitor your employees' whereabouts. By tracking them, you're raising the safety standards at your facility — while monitoring workflow efficiencies.
GAO has designed a sophisticated network of RFID Tag and Reader configurations that not only track workers, but also logs their productivity.  Here's how it works:
Each of your employees are assigned a badge that contain a GAO Tag
GAO Readers are then placed at strategic points within the manufacturing facility
These Readers transmit data as employees pass by with their Tags
By setting up this network, our Personnel Locating System is doing the following:
Allowing managers to know where employees are at all times
Logging the amount of time each employee spends at particular work stations; this allows you to reallocate manpower accordingly
Providing special employee access to sensitive zones, while maintaining control of who gets in and who stays out
Improving visibility in remote areas, thus increasing overall workplace safety
Many industrial companies still maintain a presence in the Waterloo-Cambridge region. These companies include Loblaw, Frito-Lay and ATS Automation Tooling Systems. Therefore it's no surprise GAO is consistently called upon by this region for its RFID expertise.
GAO RFID in the High-Tech Sector
As we mentioned earlier, Blackberry remains at the heart of Waterloo's economy. But many other high-tech players are also in the vicinity like Maplesoft, Open Text Corporation and Dalsa. Many of our innovation clients have not yet discovered how to effectively organize their massive volumes of paperwork. Despite their expertise in the digital sector, moving a company's files to a virtual sphere is still a difficult task. GAO RFID specializes in eliminating the need for paperwork. We understand that successful companies, like Blackberry, produce enormous amounts of data. This data can include quality control charts, legal documentation and payroll stubs.
GAO's clients embed our RFID Tags into their documents — giving each one a digital footprint. Those Tags then send signals to strategically-placed Readers within the office.  Our Readers then transmit important data to a centralized database in relation to the corresponding paperwork.  Use GAO's comprehensive computer software to sort through thousands of documents.  And never go searching through boxes of files ever again.
Bringing our systems on board is as easy as getting in touch.  From asset tracking to personnel management, GAO RFID has many solutions to streamline your operations.  Simply contact us for a personalized assessment of your company's needs.  Our team of certified professionals is eager to help your business succeed.