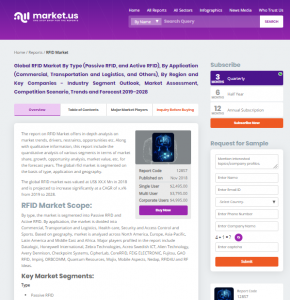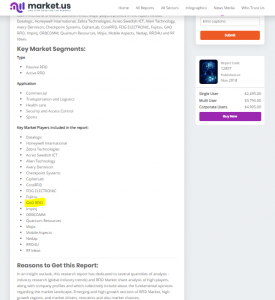 Global RFID market report studies market trends, drivers, restraints, and opportunities of the RFID market. Qualitative and quantitative information on market share, growth, opportunity and market value of RFID market are studied to forecast RFID market growth between 2019 and 2028. Emerging and fast-growing sections of RFID Market, fast growth regions, and market drivers, restraints and also market chances of RFID market are studied in the report. RFID Market share analyses of key players, along with company profiles are studied.
The key market players according to the report are-
Datalogic
Honeywell International
Zebra Technologies
Acreo Swedish ICT
Alien Technology
Avery Dennison
Checkpoint Systems
CipherLab
CoreRFID
FEIG ELECTRONIC
Fujitsu
GAO RFID
Impinj
ORBCOMM
Quantum Resources
Mojix
Mobile Aspects
Nedap
RFID4U
RF Ideas
GAO RFID is mentioned as one of the key players in RFID Market. GAO RFID provides a large selection of RFID reader and RFID tags that covers a wide range of frequencies. GAO RFID also provides RFID software that is powerful and fully customizable to customer needs. GAO RFID systems are designed to meet the requirements of various industries. GAO RFID systems are faster, low cost, highly productive and secure.
https://market.us/report/rfid-market/