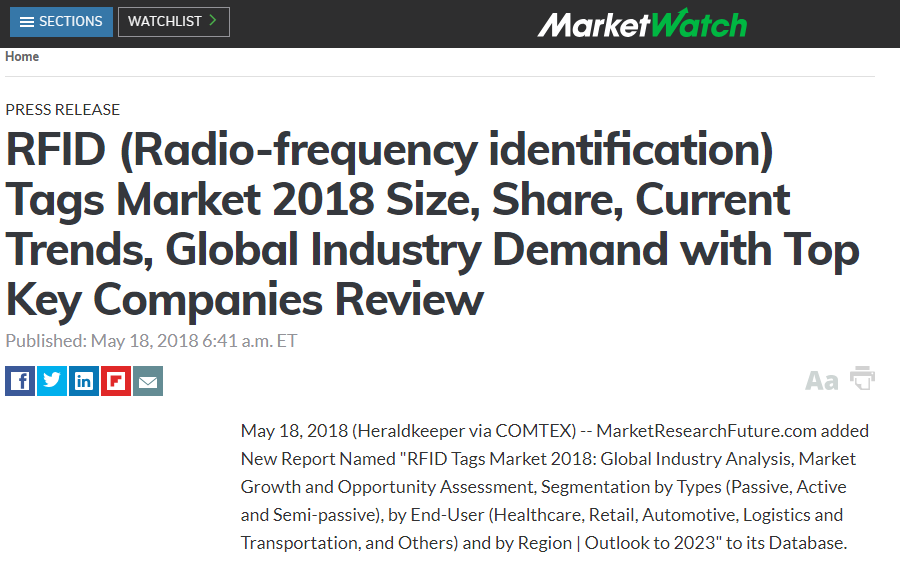 The Global RFID tag market report forecasts to grow at CAGR 7.5% in RFID tag market between 2017 and 2023. This growth in Global RFID tag market will be due to advancements in the industry. North America dominates the global RFID market because of its growing retail industry, increasing government initiatives and the presence of major players in the industry. However, ASIA Pacific is expected to grow the fastest in the RFID tag market due to industrial expansion and urbanization. A competitive analysis of RFID tag industry has been done and prominent players in the industry are recognized.
Prominent players in the RFID tags market are-
Alien Technology (U.S.)
Confidex Ltd (Finland)
HID Global Corporation (U.S.)
Honeywell international Inc. (U.S.)
Omni-ID Ltd (U.S.)
Impinj, Inc. (U.S.)
Invengo Information Technology Co. Ltd (China)
Smartrac N.V. (Netherlands)
The Tag Factory (India)
Atmel Corporation (U.S.)
NXP Semiconductors N.V. (Netherlands)
RF Code Inc. (U.S.)
GAO RFID Inc. (Canada)
CoreRFID Ltd (U.K.)
Tageos (France)
GAO RFID has been recognized as a prominent player in the RFID Tag market by the Global RFID tag market report. GAO RFID offers a wide range of RFID tags types to meet various business requirements.  GAO RFID tags are designed to comply with global frequency standards making them compatible with most RFID readers in the market. GAO RFID tags are being used for various applications like Health care, Retail, Automotive, livestock management, Personnel tracking, and transportation etc and GAO RFID is present in all the major RFID global markets.
https://www.marketwatch.com/press-release/rfid-radio-frequency-identification-tags-market-2018-size-share-current-trends-global-industry-demand-with-top-key-companies-review-2018-05-18