<![CDATA[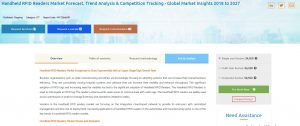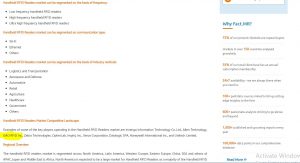 Handheld RFID reader market report forecasts exponential growth in the handheld RFID reader market with an upper single-digit growth rate from 2018 to 2027. Increasing application in the automotive and manufacturing sector is one of the key trends in the industry. Efficiency, Productivity, high security, and high performance offered by handheld readers are driving its market growth, while its somewhat unreliability is restraining its growth. Key players operating the market according to the report are:
Invengo Information Technology Co. Ltd.
Alien Technology
GAO RFID Inc.
Zebra Technologies
CipherLab
Impinj, Inc.
Xerox Corporation
Datalogic SPA
Honeywell International Inc.
Unitech Limited.
GAO RFID is mentioned as one of the key player operating in the handheld RFID market. GAO RFID offers a wide range of handheld RFID readers that are designed for various mobile work environments.
GAO handheld readers
enable you to read RFID tags at any point in the business; from the shop floor, showroom, to the receiving dock, and even while in transit at collection points.
https://www.factmr.com/report/2845/handheld-rfid-readers-market
]]>