<![CDATA[
RFID for Industrial Laundries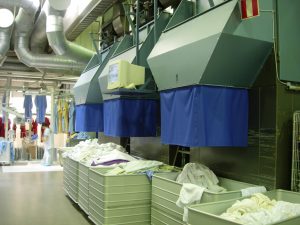 Industrial laundries recognized the benefits of using RFID to manage large scale laundry operations many years ago. Commercial laundries process thousands of pieces each hour for multiple customers. It is estimated that there are more than 400 million uniforms and other garments that are rented in North America and Europe. 20% of workers wear rented uniforms and this number is growing by 15% annually. All these uniforms need cleaning. All these cleaned uniforms have to be returned to the right customer. Enter RFID.
The Beginning of RFID for Laundry
When the industrial laundries began using RFID the only suitable and available technology was HF (13.56 MHz) RFID. Laundry operators created portals. An RFID portal is a read station made up of an RFID reader with an array of antennas. The RFID tags are usually sewn into the garment. To manage the flow of all uniforms and garments through a laundry facility every RFID tag is read as each item passed through the different stages of the operation. Typically read stations would be located in receiving, sorting, cleaning and washing, drying, ironing, folding, sorting, shipping and delivery. The tags must withstand the chemicals used in the washing and cleaning process. The tags must also withstand the washing, drying and ironing temperatures and the tags must outlast the life of the garment.
UHF RFID is Introduced
A new RFID standard was approved inDecember 2004: EPC Gen 2. The new standard has resulted in changes in RFID capabilities and price. The Gen 2 RFID tags cost less than HF tags and the read range of the tags has increased from what was centimetres to meters or inches to yards. Most new laundry implementations are taking advantage of this recent development in RFID technology.
Laundry Security in Hotels
Hotel linen includes hand towels, sheets, pillow and many other items. Some hotel guests are involved in taking up one or two of them back to their home. To some, theft of hotel towels is more pastime than petty crime. Hotels, on the other hand, apparently take it more seriously. UHF RFID laundry tags can be sewn directly into towels, bathrobes or sheets, and can report whenever an item leaves a hotel's premises. The RFID tag when read by strategically placed RFID readers can set off an alarm, usually silent, that will instantly alert the staff that a hotel item has 'grown legs'.
Contact Us to Find Out More About Our Laundry Solutions
GAO RFID has all the RFID technologies covered including HF and UHF. We have a full complement of fixed and mobile HF and UHF readers as well as a wide variety of HF and UHF tags specifically designed for use in industrial laundries. Our LocateWare powered software solutions work with all RFID technologies. Whether you require additional tags and readers for an existing operation or you are building a new laundry facility we can help. For a clean start, call us at 1 877 585-9555, send us an
inquiry
or email us at
sales@gaorfid.com
]]>