<![CDATA[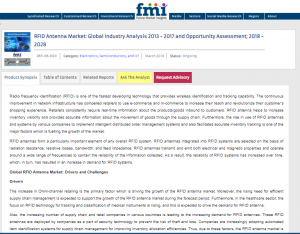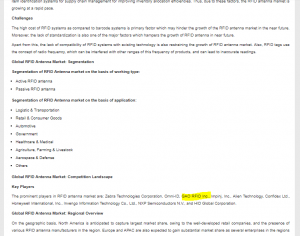 RFID Antenna Market report gives a brief introduction into RFID Antennas and their importance in RFID systems. Drivers that influence RFID Antenna market growth are studied for the forecasted period. Challenges that RFID Antenna market has to overcome to maintain the growth are also analyzed. RFID Antenna market growth for North America, Latin America, Western Europe, Eastern Europe, Asia Pacific, Japan, Middle East, and Africa are analyzed. North America is expected to capture the largest market share due to well-developed retail companies and presence of Various RFID Antenna manufactures. Key player mentioned in the report are-
Zebra Technologies Corporation
Omni-ID
GAO RFID Inc.
Impinj, Inc.
Alien Technology
Confidex Ltd.
Honeywell International Inc.
Invengo Information Technology Co. Ltd.
NXP Semiconductors N.V.
HID Global Corporation.
GAO RFID is cited as one of the key players in the RFID Antenna market. GAO RFID offers antennas that operate frequencies Active 2.45GHz, Active UHF 433 MHz, Passive UHF 860-960 MHz, Passive High Frequency 13.56 MHz, and Passive Low Frequency 134.2 KHz. GAO RFID Antennas compiles with international standards such as ISO and EPC Global Gen 2.
GAO RFID antennas
to meet client requirements comes in all kinds of shape and form such as Regular Panel, Linear Panel, ASA Panel, Single Port, High Performance Desktop Planar,  Indoor, Outdoor Directional, LHCP or RHCP Polarization, Airstrip, Runway, Sector, Circular Polarized, Yagi, HF Metallic-Shield, Intelligent Test-tube Rack, Circular Polarized Patch, Whip.
https://www.futuremarketinsights.com/reports/rfid-antenna-market
]]>