<![CDATA[
RFID in Waste Management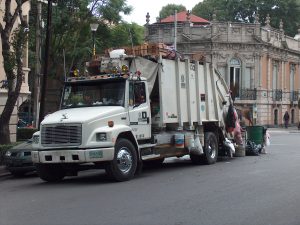 Here are a few other recycling facts from the EPA: enough energy is saved by recycling one aluminum can to run a TV set for three hours, recycling just one out of every ten plastic bottles would keep 200 million pounds of plastic out of landfills each year, the average American uses 650 pounds of paper during the course of one year. 100 million tons of wood could be saved each year if all used paper was recycled and a steel mill that uses recycled scrap reduces related water pollution, air pollution, and mining wastes by at least 70 percent. Yes, unfortunately waste management is a growth industry. It's also an industry that has turned to technology to help manage many aspects of day to day operation. For over a decade RFID has been used by the public and private sectors to increase efficiency and change the way we view waste. By using an RFID system, waste can be identified and traced through the entire waste chain. Many jurisdictions and private sector operations have attached RFID tags to waste containers and equipped their trucks with RFID readers thereby improving sortation, validating and verifying pickups, tracking the number of times a container is used for collection as well as tracking the weight of the container's contents at each and every pickup. A waste management system using RFID simplifies billing for service and supports the implementation of incentive-based invoicing. RFID used in conjunction with GPS is also providing real time visibility to all waste management activities. Waste containers come in many forms, materials and sizes, but they are all subject to harsh environments and rough handling. Being outdoors, waste containers face all the elements: cold, wet and heat and being waste containers, they endure both human and machine abuse. Only RFID tags can withstand these conditions and continue functioning throughout the life cycle of these containers. RFID is now being used by municipalities and private operators to monitor waste pickup. Waste disposal trucks equipped with RFID readers pick up bins that are equipped with RFID tags. The readers record the exact time and location every time a waste container is emptied. This introduces a new degree of monitoring and control of the waste disposal process. With an RFID based system operators have accurate and real-time data that can be used for customer billing as well as route and resource planning. The real time aspect allows municipalities to monitor performance of contractors. When dealing with hazardous waste disposal RFID provides a high degree of visibility and traceability in disposing of hazardous or otherwise sensitive waste material. This visibility can provide an audit trail of every step in the process from time and place of pickup to time and place of disposal and all stops in between.
We Have Your Solution
If you have a waste management process that's ready for RFID then contact a GAO RFID representative. We will advise you on which technology is the best for your applications and requirements. Please contact us at
sales@gaorfid.com
, send us an
inquiry
, or call us at 1-877-585-9555 or 416-292-0038, ext 601.
]]>