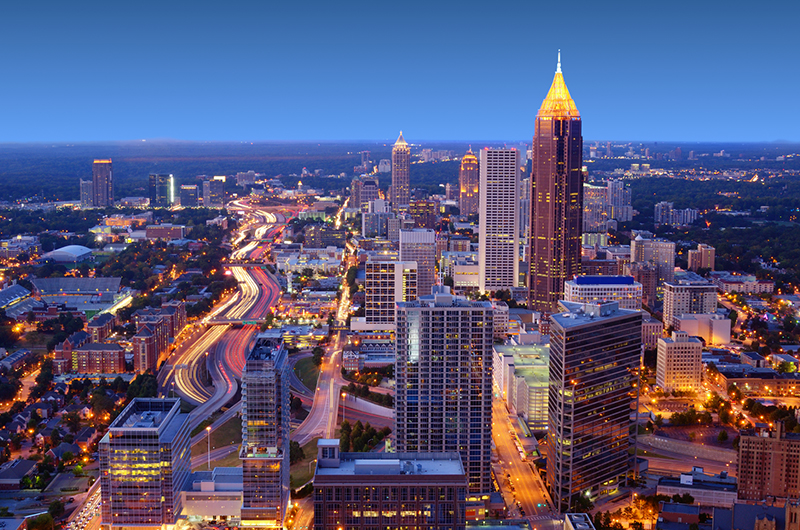 While our offices are located in Toronto, GAO RFID has been delivering smart RFID solutions to businesses across the Atlanta, Georgia area.
The city of Atlanta has had one of the most colorful histories in the United States.  It was able to rise from the hardships of the Civil War to transform itself into a national economic hub.  With a population of more than 6 million, the Atlanta metropolitan area is one of America's most diverse.  Meanwhile, the surrounding regions of Athens, Clarke and Sandy Springs have certainly benefited from the commercial successes of this vibrant city.
Built at the intersection of two railway lines, Atlanta is the main transportation hub for all of the Southeastern United States.  GAO RFID Inc. is a major contributor to the rail transport industry.  Our Rail Safety Management System is designed to secure the well-being of both workers and passengers.  Trackside safety is a major concern — not only on long-haul routes but also within Atlanta's busy subway system.  It is the eighth largest transit line in the country.  And connects many key destinations, including Downtown, Midtown and the airport.  Using GAO's real-time technology, transport authorities can implement the highest standards in North American rail safety.  Train operators are notified of rail workers nearby — giving them enough time to slow down and proceed cautiously.
Atlanta's influence on America's media scene is undeniable.  Cable News Network (CNN) is headquartered in the ATL, owned and operated by the Turner Broadcasting System.  Meanwhile, The Weather Channel (owned by NBC Universal) is based in Cobb County on the outskirts of Atlanta.  With so many corporations headquartered here, property maintenance remains key to the efficiency of this city.  GAO's RFID Systems for the radio and television broadcasting industry, especially our Building Management System is crucial in this area.  Our company offers some of the most modernized solutions, designed to manage even the most complex facilities.  Here are just some of the benefits of choosing GAO for all your building management needs:
Control entrance permissions using our highly-intuitive Tag and Reader system
Restrict access to sensitive zones by imposing a higher tier of security to certain areas
Monitor all vehicles on premises using components from GAO's Parking Control System
With so much commercial and cultural activity in Atlanta, organized events are just another part of daily life.  Due to the diversity of its population, Atlanta plays host to a number of festivals and shows each year, and we provide RFID Systems to this robust industry of concert halls and stadiums.  But marketing and crowd control are understandable challenges.  GAO's Event Management System makes it easy for our clients to manage such occasions effectively.  Our software gives organizers the power to establish attendee registration and analyze the audience.  Couple that with GAO's Building Management RFID System — and even the biggest event facilities become safe territory all visitors can enjoy.
Experience why GAO RFID has become the trusted source for RFID technologies in Atlanta.  Our team of certified professionals includes experts in managing the logistics of this dynamic city.  Contact us for a personalized consultation.  And discover how we can grow your business without compromising on security and customer service.
Our RFID systems and hardware are being used to improve productivity by these great organizations in Atlanta:
The CDC is one of the major operating components of the Department of Health and Human Services. CDC works 24/7 to protect America from health, safety and security threats, both foreign and in the U.S. Whether diseases start at home or abroad, are chronic or acute, curable or preventable, human error or deliberate attack, CDC fights disease and supports communities and citizens to do the same.
Learn more about how our RFID Systems can be used in the Medical Diagnostics industry.

Located in Atlanta, Georgia, the Georgia Institute of Technology is a leading research university committed to improving the human condition through advanced science and technology. Ranked as the #7 best public university, Georgia Tech provides a focused, technologically based education to more than 21,500 undergraduate and graduate students.
Learn more about how our RFID Systems can be used in the Education industry.

TEKWave is a Managed Services Provider with applications for Mobile Data Collection, Location Based Tracking, and Electronic Reporting for the Security Officers and Facilities Management industries. TEKControl (SaaS) provides real time access to information regarding your workforce and their tasks for better data and lower costs.
Learn more about how our RFID Systems can be used in the Computer Systems & Software Design industry.